How much insulation do I really need in my attic?  One of our readers recently asked this question for his cellulose attic insulation along with…If I need to add insulation to my attic, what is the least expensive material and method for installing?  In this article we review attic insulation requirements and discuss cellulose insulation costs and installation methods for saving money.
How Much Insulation Do I Need?
The U.S. Department of Energy has maps that tell you how much insulation you need based on the climate your home is in.  If you live in Cleveland, Ohio for example, they recommend you have a minimum of an R-38 in your attic.  If you have cellulose as in the pictures above (or plan to install cellulose in the near future), you would need to fill your attic to a depth of 10 inches to achieve an R-38 (assuming the typical R value of 3.8 per inch for cellulose).  As you can see in the top picture, the depth is short by about three inches for a home located in Cleveland.  The Department of Energy actually recommends a range of R-values for this particular climate zone from R-38 to R-49 for an existing attic that has some insulation.
A great way to double check to see how much insulation you need in your attic is to contact your local building department.  They can recommend minimum values and give you some ideas for appropriate types of insulation for your particular situation and location.
How to Check Existing Values
In order to figure out how much insulation you need to add to your attic you must first figure out what you currently have in place.  If you have cellulose insulation and a flat ceiling, it's simple to check the current R-value in your attic.  Locate your attic access panel.  Make sure you only put your weight on the framing members…if you step on the drywall, you will end up with zero cellulose in the attic as the ceiling will fall.
Using a ruler or tape measure, measure the depth from top of the drywall up to the top of the cellulose.  You will notice the depth varies throughout.  If it is 13 inches in one spot and 6 in another, you should level it out (this can happen with air currents in your attic).  You can level the material with a rake to get a consistent depth.  Once you've leveled out the cellulose you can determine how much insulation you need to add.
How Much Does it Cost to Add?
Now that you know how much insulation you need, you can figure your costs for adding.  The good news is…it's easy to add cellulose as a DIY project.  Most home improvement centers have blowing machines that you can rent (sometimes for free if you buy the material from them).  Once you get the machine setup, the actual installation takes a minimal amount of time.
The cellulose insulation material is about $.03 per inch of R-value per square foot of attic space.  So, let's say you need to add five inches of cellulose to your attic.  It will cost you $.15 per square foot of attic area.  So if your attic is five hundred square feet, it will cost you about $75 for the material to add the five inches of cellulose (plus any costs to rent the blower).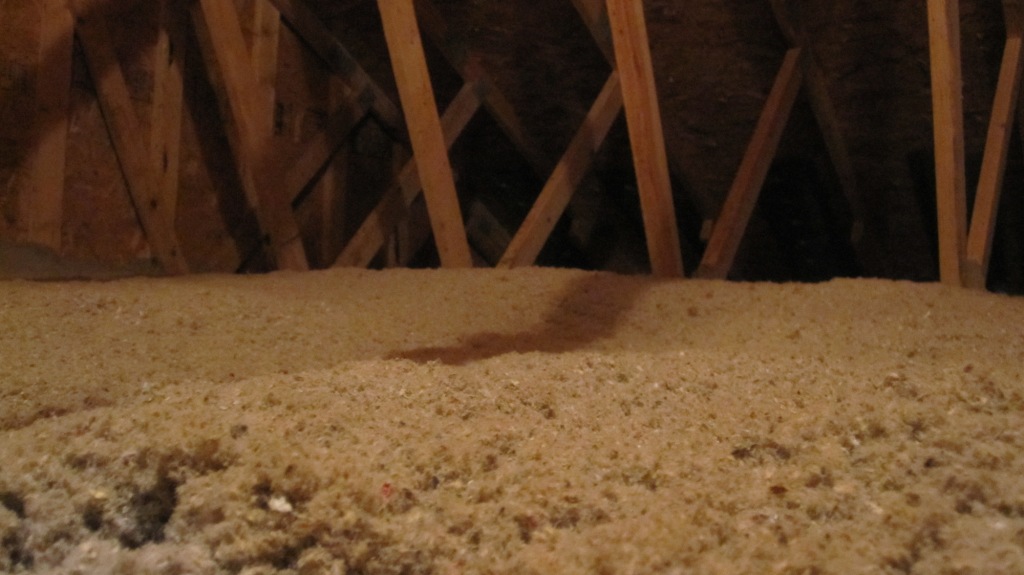 Why Cellulose?
Recycled:  Many of the cellulose insulation products on the market today are made of 85% or more recycled paper fiber and come with a class 1A fire rating
Easy Install:  Can be installed directly over existing insulation without worry of moisture issues and requires no skilled installation
Fills Gaps:  Blowing in the material fills in voids to provide a more seamless blanket of insulation
No Itch:  Does not irritate your skin like fiberglass
Lowest Cost (similar to fiberglass batts in price but easier to install)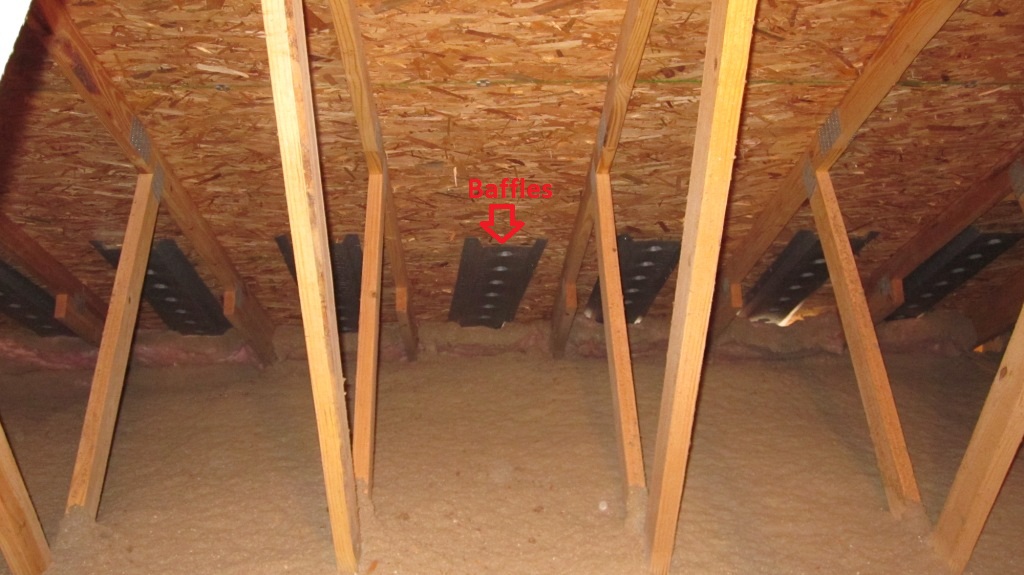 One more tip…be sure you have baffles (see picture above) in place to prevent the cellulose from clogging your soffit vents.  Many homes have soffits with small holes that allow air to enter and go out through vents in the roof.  These soffit vents are critical for creating a properly vented attic.  Check out this article if you are looking for other
 ways to save energy on your home.
  Another good source for saving energy in your home is to address the
air leaks
.
Determining how much insulation you should have in your attic is pretty straight forward by checking the
U.S. Department of Energy Maps
 or by asking your local building department.  Your local building department can also review your insulation choice to determine if it is appropriate for your particular house type and location.  Determining how much insulation you need is simple…and adding additional cellulose insulation is almost as easy.  Have you ever thought about building your own home?  Be sure to stop by the Armchair Builder
How to Build Your Own Home
resource page.
No tags

6 Comments for How Much Insulation Do I Need in My Attic?