About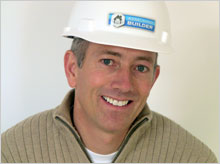 Michael has built, remodeled and repaired  thousands of homes throughout the U.S. over the past 17 years.  He created Armchair Builder to pass his experience on to owner builders and homeowners so they could save money while building and maintaining their dream home.
Armchair Builder is THE site for Owner Builders.   In other words, people who want to save money by acting as their own general contractor.  Armchair Builder gives you the knowledge and resources to manage the construction and maintenance of your projects and BE the builder.  From hiring good trades people to designing for maximum cost savings, we are here to help.
DIY:  Sometimes it makes sense to do the actual work yourself.  Either because you can't find a good price from subcontractors or because you really like doing the work.  So we will cover some DIY projects that will help you save even more money on your home projects.
But I don't have Time to Manage the Construction of My New Home: We will share with you different variations of involvement for the owner builder…some require a lot of time and others not so much.  But if you decide to go with a full service builder, no problem, Armchair Builder will help you become a more informed purchaser.  By learning more about the building process, you will be better prepared to hold your contractor or builder accountable.  A new home is probably the biggest investment you will make…so you might as well make sure you get the best one possible that will last for years!  Also, we can help you build your smaller projects (i.e. finished basements, garages, and additions) & help you troubleshoot and maintain that huge investment with the least expensive methods.
You can trust us at Armchair Builder: There are some unscrupulous people out there when it comes to building, remodeling, and home repairs.  We take pride in being a trusted resource for anyone thinking of building, remodeling or repairing their home. We will give you the truth…and hopefully help you save money and get exactly what you want.  Armchair Builder wants to be your friend in the building business.
Giving back: A portion of the proceeds from all products purchased from Armchair Builder will be donated to Habitat for Humanity (products in our ESTORE).  Why?  Because we think everyone should have a place to call home…a place they can take pride in…a place they can make their own.
Michael's Background:  B.S. Civil Engineering & Construction Management & MBA.  Why is this important you say?  His coursework prepared him to effectively solve problems and create the most cost effective solutions to those problems.  When building a new construction project, you want to use highly efficient systems, procedures and products to build the best home you can.  This applies to any project whether it be a closet you are adding, a roof repair or a full custom home being built from the ground up.
Disclosure Policy: Fact: We love helping our customers create and maintain the home of their dreams!   Fact:  We may sometimes get products or services for free and sometimes write or talk about them on our site…but we are always, always, always honest in our reviews.  Fact:  By visiting armchairbuilder.com and blog.armchairbuilder.com, you agree to use any and all advice or materials provided at your own risk.  Building, remodeling, and repairing homes can be difficult…if it wasn't, you wouldn't need our help.  But since we can't be there every day to help…you may experience some problems along the way and as an owner builder, these will be completely your responsibility.  Fact:  The money saved and the pride you get by overseeing your project yourself is all yours!  Fact:  Armchair Builder tries to screen all websites and resources linked to from this site.  But because these are third parties, we do not control the content or the quality of services provided…so by clicking on these links you agree to use these at your own risk and agree to hold Armchair Builder, it's contributors and officers, harmless for any problems that may occur after leaving our site.  Information presented on this site is for educational or entertainment purposes only.  You are responsible for your own actions and outcomes should you use any information found on this site.
Privacy Policy:  Click here to see our privacy policy
Now let's get building!