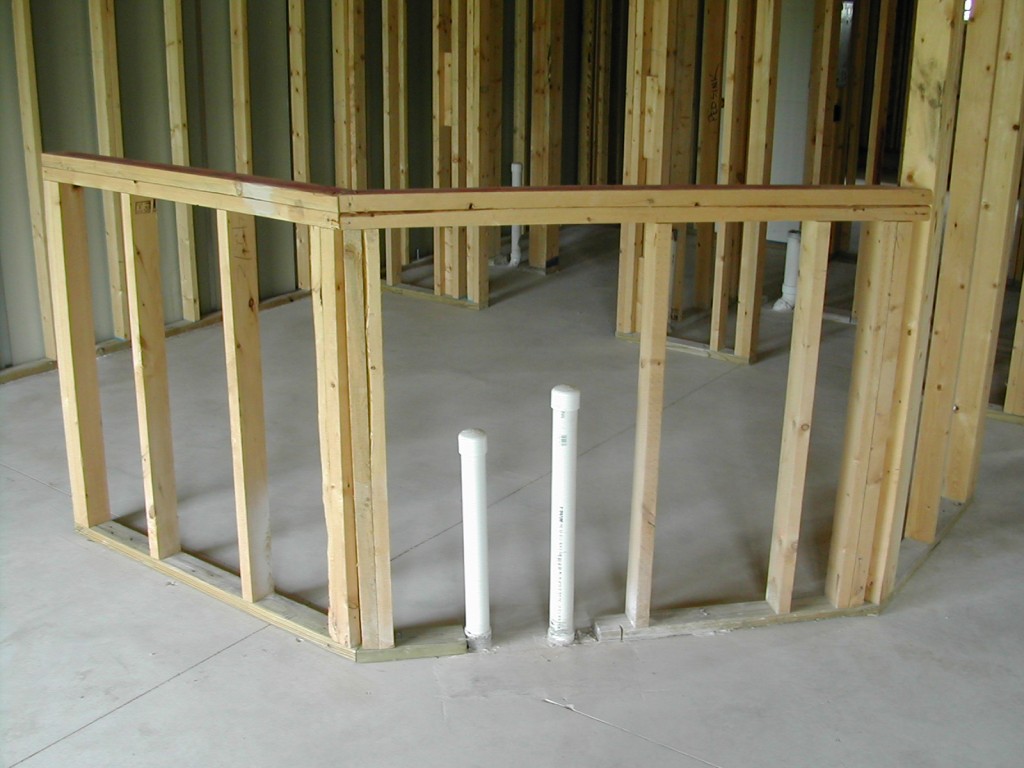 My granite subcontractor showed up to a house today to measure…they always measure once the cabinets are installed to make sure the granite is cut to the exact size.  As we were going through the cabinet layout and architectural plans we noticed a kneewall (short wall) was missing that would support the bar top.  I had mixed emotions.  I was embarrased because we missed this on our inspections and I was angry that the carpenter didn't read the plan.
This small mistake affects six different trades…the rough carpenter, electrician, drywaller, painter, trim carpenter, and of course the granite guy.  It also has the potential to delay my closing as we need to get the wall built before we can proceed.  The carpenter has to frame it, the electrician has to wire it, drywaller has to finish it, painter has to paint it, trim carpenter has to install the base molding on it, and then the granite guy can return to finish measuring and fabrication.  All of this re-work will require time and money.  And unfortunately, we don't have enough of either on this particular project.
Quality Inspections
All quality inspections are important to building something that will last.  But if I were to say which is most important, I would have to say the foundation and framing inspections.  As you can see from this example, forgetting one small non-structural short wall, we have added additional time and money to our project.  A good frame inspection should check all the dimensions of all walls, structural baring points, joist, truss and beam locations…etc.  We have created a great frame inspection checklist and included it in The Builder's Daily Construction Guide if you need one.  Check out our ESTORE for more details.
So, as an owner builder, make sure you diligently perform inspections after each building activity making sure everything was built per plan and done in a quality fashion.  It will save you a ton of grief and money on your new building projects.
No tags