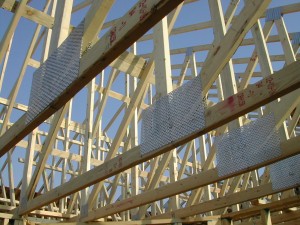 Build a New Home
So, you have a particular new home project in mind but you're not sure how to get it done.  You can hire a general contractor or home builder to handle all the details but you have received several bids and don't like the prices.  You have visited the local home builders and they don't have a plan that fits your needs or they don't build in the location that you want to live.  Maybe you have contacted several general contractors or remodelers and they are all too busy to handle your small bath remodel. These are all good reasons to take control of the project and become an owner-builder.  Here are several others for you to think about…
Save  Money – Save the typical percentage that home builders and remodelers charge.  This can range anywhere from 10% to 25% depending on the project, location, economy…etc.  You can also save money by doing some of the labor yourself which we expand on below.
Get Exactly What you Want – Many builders only offer certain plans in order to be efficient.   Some just build in their own subdivisions which may not be your first choice.  In addition, many home builders have contracts with certain suppliers/manufacturers so they can't give you the exact light fixture or faucet that you want.  I know some general contractors that don't want to bother with green building.  By being the owner-builder, you are unlimited in your options.
Control Timing – You can have complete control of when the project starts and finishes.  Builders and remodelers have other projects going…so your project may have to wait until they have the time to get started or your project may be small so they don't give it as much attention as it deserves.
Choose Who Does the Work – Most contractors won't let you do any of the work or supply your own subs because they don't think you can meet the schedule or they are concerned about the quality.  When you're the owner-builder, you can save money if you have the time and experience to do some of the physical work yourself.  Or, maybe your brother is a plumber and owes you a favor.
Pride – You get the pride of knowing that you created and built a project that will last a lifetime!
These are some of the big reasons to take control of your project and become an owner-builder.  Check out our video titled…Build My Own Home…for more reasons to take on such a big project yourself.
No tags

2 Comments for Save Money and Get What You Want, Become an Owner-Builder