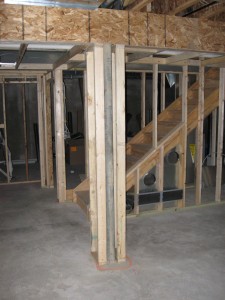 So you've decided you want to finish your basement.  Yesterday we posted Part I of a series of videos to make this an easy project for an owner-builder.  Today, we posted a new video titled Pre-Planning for Your Finished Basement, Part II.  In this video we review all of the things to consider before you start your basement project.  We want this project to last a long time so there are some things we need to locate and review prior to starting the design of our plan.  Here is a quick checklist of some of the items we cover…
Check for Moisture:  we don't want to cover up a problem so let's identify these now and fix them prior to finishing
Review foundation walls for cracks and bulges:  again, don't cover these up, they will come back to bite you
Locate shutoffs, dampers, cleanouts…etc.  We will want to create access points in our design
Material Access:  Determine how you will get your material down into the basement.  We want to minimize damage to the finished areas of the home and keep the new materials in good shape
Seal basement floor to wall joint & any other cracks in the floor.  This provides an additional moisture barrier and also helps seal the floor from radon gas.
Locate mechanical and structural obstructions so we can incorporate them into our plan
Ceiling:  Decide on a finish based on the types of plumbing, HVAC and electrical access that will be needed in the furture.  We will also want to consider head clearance when deciding on a finish.  Popular options for finished basement ceiling finish include drywall, dropped, or a combination of both.  We decided to go with an urban loft look to our design.  So, we basically will paint the ceiling black and leave the mechanicals exposed.  This gives us maximum head clearance and will provide easy access to plumbing, HVAC, and electrical in the future.  This exposed ceiling goes with the soft contemporary design we have chosen for our new finished space.
No tags

1 Comment for Finished Basement Pre-Planning Checklist, Part II