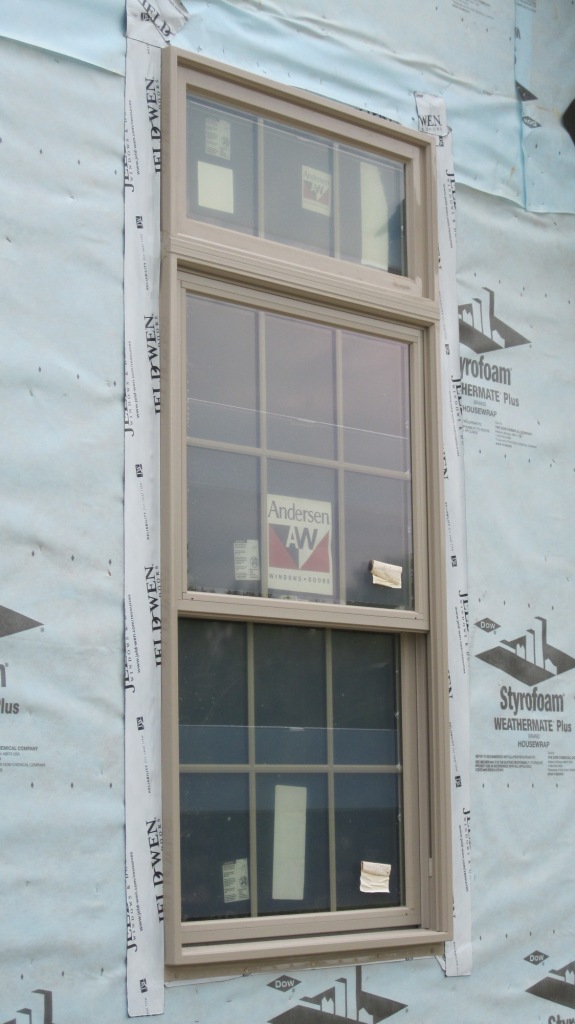 I was talking with a new armchair builder the other day and he asked me for some tips on how to install new windows.  He also asked for a window manufacturer recommendation.  I started to give him my favorite manufacturer and then I remembered what my biggest problems have been with windows over my home building career.  Most of the window problems I have experienced could be traced back to the installation, not the actual window itself.  There are definitely some manufacturers out there that produce a superior window and there are many levels of quality within each manufacturer's product lines.  However, getting your windows installed properly is the most important thing to avoid future problems.  Here are some tips on how to install new windows in your new project to avoid future problems…
How to Install New Windows
Tip Number 1: Have the window supplier install the windows.  This will prevent the age old finger pointing scenario where the window supplier blames the performance on the installer and the installer blames the window itself.  Been there…done that.  The installer should also be very familiar with the windows and the manufacturer installation guidelines.   Just as each window and door is very different in style and operation, the installation can be equally different from window to window.  If a given installer works with a particular manufacturer on a regular basis, he/she will be more "in tune" with the requirements.
Quick story about choosing a window installer…Several years ago, I asked my framing contractor if he new how to install new windows made by "XYZ" company.  He answered with an emphatic, Sure!  So, I figured I would have his company install the windows while they were framing a new custom home.  It seemed like a logical choice but it was a big mistake.  Apparently, he had installed one house of this style of window over his career.  And believe it or not, this guy wasn't interested in reading directions.  Unfortunately, we didn't watch his quality as close as we should have.  We ended up with several windows with operational problems.  And if you haven't done it before, I can tell you window re-installation is never fun once your siding material is in place.  Imagine pulling off brick, stucco or siding on a brand new home…it can get messy.
2)  Make sure the installer is AAMA (American Architectural Manufacturers Association) certified or at least follows AAMA guidelines.  AAMA certification provides you with piece of mind that your windows will be installed and perform at the highest level.  This is very important as it pertains to sealing up the window to the sheathing/housewrap.  Probably the biggest component to any window or door installation is the weatherization…which means…sealing up the opening so no water or drafts can get in.
3)  Read the manufacturer's instructions VERY carefully.  This doesn't just concern the install…it also concerns the materials that surround the window.  For example, I built a house that had a brick elevation and the mason bricked up tight to the window.  At first glance you would think this is a good thing to help keep the water out.  As the house settled over the next year, the window settled with the framing and the brick stayed put.  This settlement put a stress on the vinyl window causing it to deform and stop closing properly.  This particular window manufacturer's instructions actually call for a 3/16″ gap between the brick and the window frame.  We should have read the instructions on how to install new windows in brick locations!!!
4)  Choose a window that has a solid warranty.  There are a couple manufactures out there that have lengthy warranties.  I know of one for sure that is lifetime and if something goes wrong, both materials and labor are covered.  This is important as the labor can be considerably more expensive than the actual replacement parts.
Just a few more tips on how to install new windows in your new building project…Don't go too cheap!  A good mechanic will tell you to use good quality parts when fixing your car.  After all, a big part of the cost of a repair is the labor.   So when it comes to your windows, make sure you choose a product that will perform for many years.  There are several reputable manufacturers that offer great warranties and a quality product…check these out before you buy!
After building hundreds of homes, this is the best advice I can give you on how to install new windows in your home.  When you are dealing with 15-25 windows in a typical home, you want to make sure they get installed properly.  So, make sure you read the manufacturer directions carefully and check that your installers are following them… and be sure to hire trained professionals to do the work.
No tags