It's that time of year where we shut off the energy sucking air conditioners and open the doors to let the cool fall breezes blow through our homes.  I can see the electric meters slowing down as I write this.  The unwanted byproduct of the nice breeze is the door SLAM! that occurs when you least expect it.  You've experienced it right?  You're just about to fall asleep when…BLAM!..the door slams from a gust of wind.  We use shoes, rugs, wedges…you name it, to jamb under the door to keep it in place.  But what if you had an inexpensive, good looking product that would keep the door open without the extra hassle or trip hazard of our makeshift door stops?
I assure you I have no affiliation with this product and receive nothing for writing this.  I just thought I would share with you a new (or new to me anyway) product that looks good and keeps your doors from slamming from the wind.  Tah, dah!  The magnetic door stop.  This beauty attaches to your door and base molding just like your old door stop would.  However, the magic begins when you experience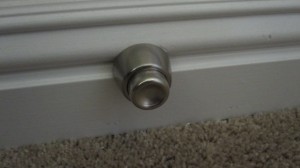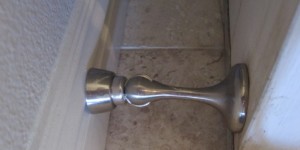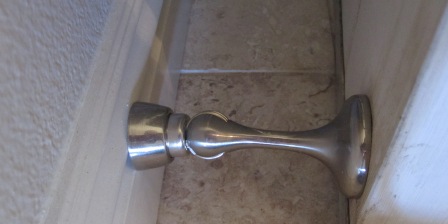 the magnetic attraction between the two pieces.  The attraction keeps your door open when mother nature blows a big one through your house.  One other added bonus…the small piece we have mounted on the base molding (in the picture to the right) is spring loaded to help absorb the impact if you open the door too abruptly.
The product comes in three different finishes;  oil rubbed bronze, satin nickel, polished brass.  The retail price is in the $5-$8 neighborhood and can be purchased at most home improvement stores.  Installation time is less than five minutes.
Here's a link to the product on the Lowes website.
No tags