Repair a Water Damaged Vanity Cabinet
0 Comments | Posted by armchairbuilder in Fix it!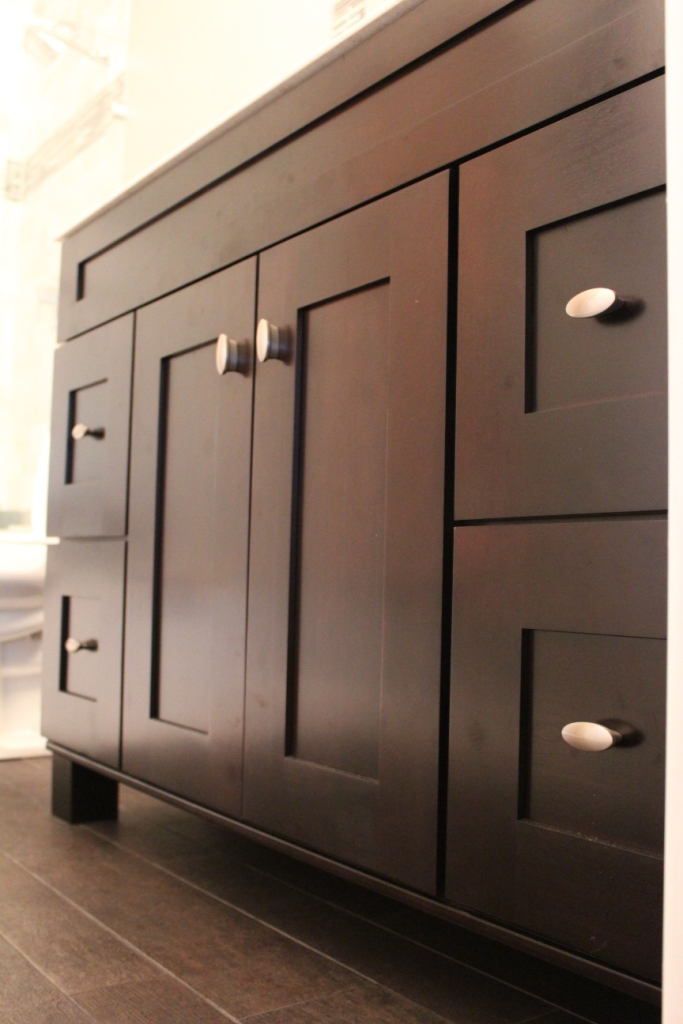 We just received a reader question regarding a bathroom vanity cabinet with water damage on the sides.  The question which comes from Danita in Maryland is…
I have water damage at the bottom on the sides of my bathroom vanity cabinet.  Do I have to replace the whole cabinet or is there some way I can save the vanity? 
First of all, thanks for thinking of Armchair Builder when looking to solve a problem with your home Danita.  Not only can we help you build and remodel, but we can also give builder advice on repairs.  For a water damaged bath vanity, the first item to address is the integrity of the cabinet.  Is the cabinet capable of performing its job as is?  Meaning, is the damage cosmetic or does it also affect the structure and functionality?
The good news is, vanities don't do a lot of heavy lifting…in other words, they provide support for your countertop, sink and faucet and not much else.  Obviously the cabinet needs to stay together when you lean on it but other than that, it just needs to sit there and look pretty.
The other good news is…if the cabinet was subjected to a toilet overflow or a one-time plumbing event, it probably dried rather quickly and is structurally OK.  So here are some ideas for you to think about in determining whether to repair or replace your vanity.
Repair
Depending on how much damage you have, your easiest/cheapest option would be to repair the existing vanity cabinet.  If you have some minor water damage on the sides of the cabinet, consider covering the sides with a new veneer.  Most cabinet manufacturers have cabinet veneers that will cover the sides of your vanity.  These veneers, sometimes called skins, come pre-finished in a variety of different stains and will make the cabinet look new once installed.  They are typically about 1/8 inch thick…just enough to be rigid but not too thick to create a problem when installing.  Many cabinet face frames (the part of the cabinet where the door closes against) have an overhang at the sides to allow for the installation of a veneer.  This keeps you from having an unfinished veneer edge visible from the front.
Another option, if you don't know the manufacturer, is to stop by your local home improvement store and pick up a sanded smooth, birch veneer plywood.  This can be cut to fit and stained or painted to match your existing cabinet.  You will want to keep this one as thin as possible as well…1/8″should work.
Replacement
It's always nice to have new products to work with.  However, there are some potential problems that can come up when you replace a vanity cabinet.  Much like all other remodeling projects, they can open up a can of worms.  Here are some potential problems that can come up when replacing a vanity cabinet…
The new vanity cabinet will be a different size/shape so the floor will need to be repaired or replaced.  Even if you choose the exact width, the shape will most likely be different.  So make sure the new vanity has a bigger footprint than the existing cabinet.  Also, if you choose a new designer vanity that sits up off the floor, you may need to add flooring below as ome builders install flooring after cabinets.
The vanity top may be damaged when removed if it is glued down.  Construction adhesives can be difficult to break through and can require a major force to break them lose.
The mirror may break if it sits on top of the vanity.  Many of the mirrors installed today are glued to the wall with a thick mastic.  In order to get the vanity top out, you may need to remove the mirror.
Danita, we hope this helps you get your bathroom in order.  Let us know which way you decide to go.  Feel free to send over any other home building, remodeling or repair questions you have…we are happy to help.  (info@armchairbuilder.com)
No tags