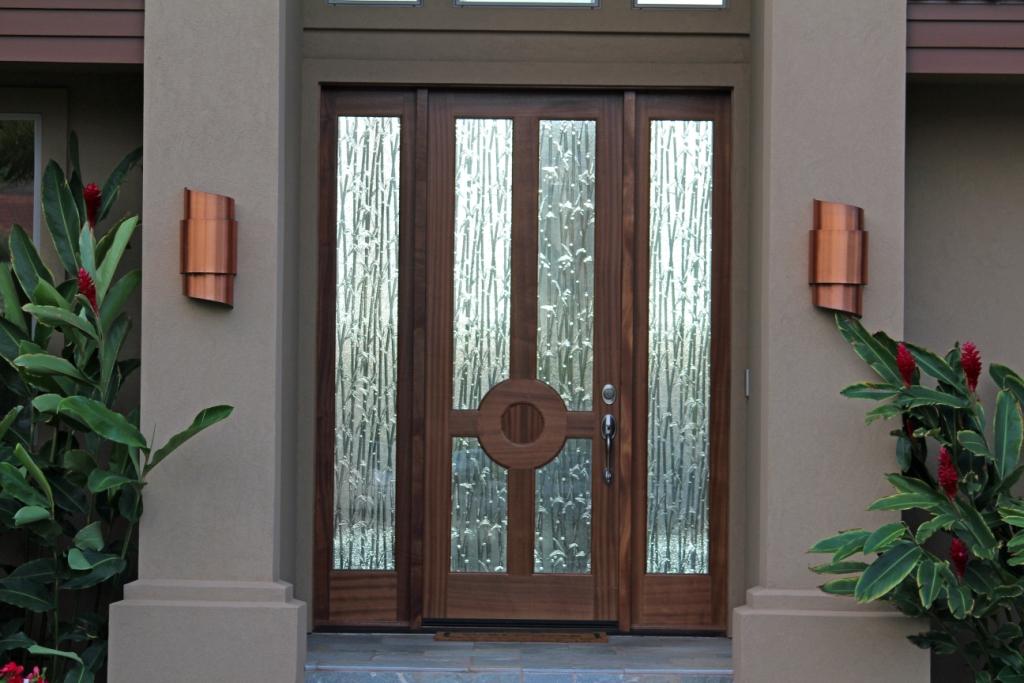 One of the things that has taken me a while to grasp as a builder is the impact the entry door selection has on a home.  When I started out building homes, the front door was a necessary evil.  It was viewed as just another component in the house…something to lock to keep intruders out.  Today, the entry door is equally geared toward design and function.
Configuration
Doors come in so many different configurations today.  As you can see in the photo above, the door is accompanied by two large sidelights.  In some cases, a transom window is attached above the door to provide additional light.  If security is a major concern, you may decide to install just one glass sidelight to the side of the door opposite the handle and lock.
Glass Style
In many cases, the house plan creates a dark foyer space.  A great way to lighten up the area and make it more inviting is to consider adding glass to your entry door selection.  Depending on the door manufacturer you choose, you may have the option to have half or full glass on the door,  half or full glass sidelights, and even a full glass transom attached above.  The good news is, there are so many options available today, you should be able to find exactly what you need.
Not only can you choose where you want the glass, but you can also choose the type.  Check out some of the different styles in the photos here.  From rain drops to crackled to leaded, there are some great glass options out there.  It's really amazing to see how much different a door looks just by choosing a different type of glass.
Door Material
Some of the more popular exterior door materials used today include fiberglass, wood, and even steel.  Fiberglass is a great choice because it's low maintenance, energy efficient, and can be finished to look like real wood.  On the other hand, real wood can add a warm, high-end look as shown in the photos above.  However, you should carefully review the maintenance requirements for any wood door you are considering.  Depending on your climate and the orientation of your new home, wood may not be a smart choice.
Builder Tips for Entry Door Selection
As an owner builder, you are taking on the role of the general contractor.  This role includes product and entry door selection.  So in order to keep you from purchasing a door that won't work with your new dream home, I've listed some key items for your consideration.
Rough Opening Size – Make certain that your plan will accommodate the door size and configuration.  If you have an eight foot ceiling, you may find it difficult to fit an entry door with a transom .
Jamb Thickness – Remember, your door jambs need to match the thickness of your exterior wall.  In choosing the jamb thickness for your home, it's important to consider stud size, drywall and exterior sheathing thickness, and exterior wall cladding thickness and type.
Door Swing – Although this sounds obvious, getting the door handing wrong can be an expensive mistake.  This is one of those measure twice, cut once kind of things.  Go over the door handing several times with your supplier to make sure you get it right.
Lock – Sure, you can have your trim carpenter bore out the hole for your locks.  But why not have it done during manufacturing?  There's too much potential for error or damage when cutting a hole in a door.  And I don't know about you, but when a door costs thousands of dollars, I prefer to have the factory handle it.  Besides, it's typically cheaper to have it done at the factory.
Low Cost Big Impact Door
So we've shown you some really nice doors here.  Those in the photos above range in price from $5k up to $15k or more.  But you don't need to spend this kind of money on your entry door selection.  Any builder will tell you it's not always how much you spend, but how you spend it.  My favorite low cost entry door selection is the six panel, fiberglass door that has been stained to look like wood.  The door above is fiberglass with a stain applied.  So, picture this door in a solid, six panel configuration with a nice set of hardware.  The total cost can be under $500 and the look is priceless.  For a list of more things to consider in your entry door selection, check out this buying guide by Consumer Reports.
No tags