Crown molding can really improve the look of any space in your home.  From traditional to contemporary, there are  many different trim profiles and configurations.  But crown molding can get expensive when you add up the cost of materials and labor.  Here I will share with you an alternative trim detail that will keep your material costs to a minimum while allowing the novice do-it-yourselfer to tackle the labor.
Builder Secret
One of the keys to being a successful builder is to come up with alternative ways to building a quality home while keeping the costs low.  Crown molding can give any home a high quality, custom look without spending a bunch of money.  In order to save money, it's possible to combine several low cost materials to achieve a custom look.  In this case, we use a smaller profile crown molding, a 2-1/4 inch traditional crown with a cap molding (1-1/8 inch).  The crown is installed at the ceiling/wall angle as usual and the cap molding is located seven inches down from the ceiling to the bottom edge.  By painting the crown, cap molding, and the wall in between the same color, we give the illusion of one large piece of molding.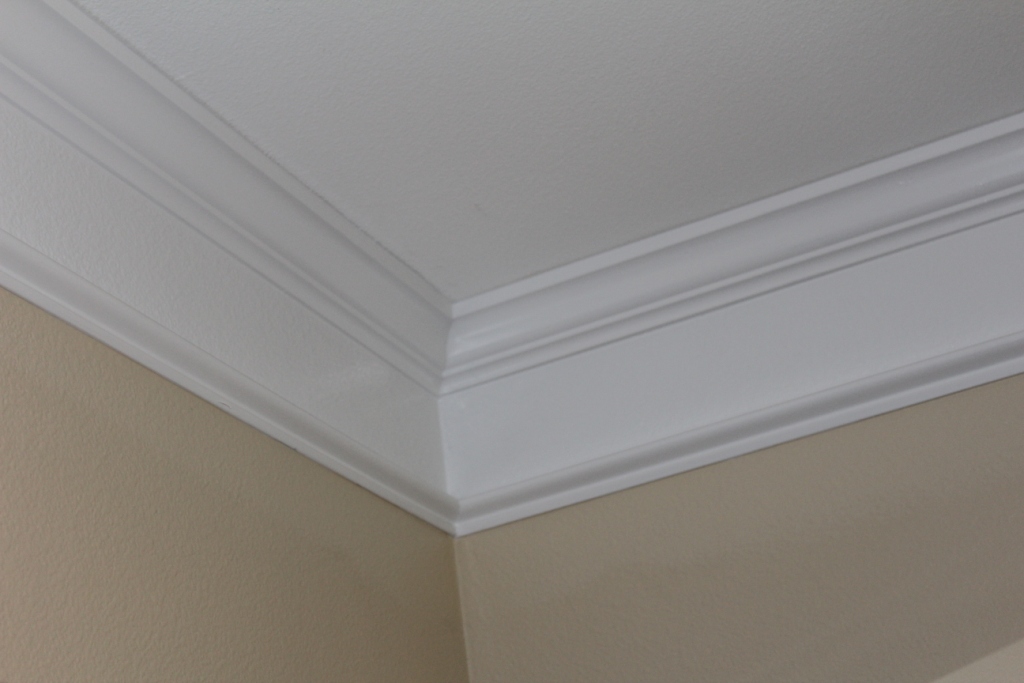 Big & Tall
So the best part about this crown molding detail is the affect it can have on the space below.  Not only does the trim create a custom look to your room, but it also can make the space feel bigger and taller.  This is especially true when using a lighter paint color.  In the photos above, a pure white semi-gloss paint was used.
Crown Molding Cost
The material cost for the two pieces combined is much less than a large crown and is more readily available at most home improvement stores.  A six or seven inch crown would create a similar look to our detail but can cost three or four times as much for the material.  The other huge benefit of using the smaller pieces combined is the ease of use.  The crown can be cut with a smaller, portable saw, and won't break the bank when a miss-cut occurs.  Think about it.  If you cut an eight foot piece of the seven inch crown wrong, you could be out $30 or $40.  The smaller stuff that we used will only set you back ten bucks.
Installation Video
Are you thinking about installing this crown in your home?  Check out our latest installation video below.  And just in case you missed it, you may want to check out another crown molding option in this video.
No tags