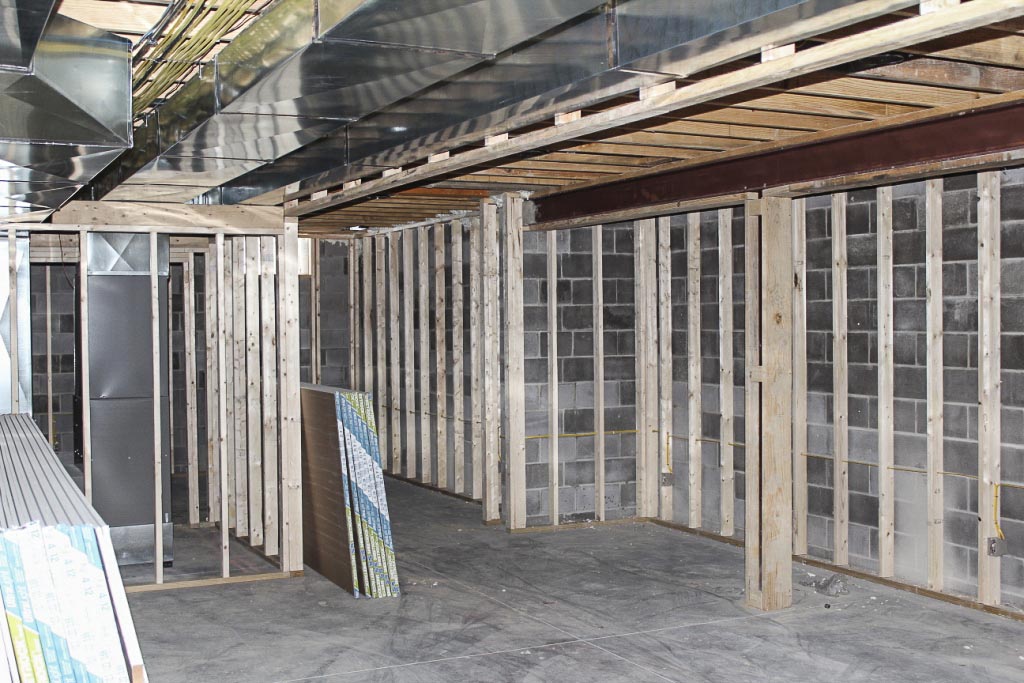 An affordable basement finish can be a great way to add square footage to a home.  Whether you are building a new home, or just wanting to add more living space to the existing place, completing a lower level build-out can be accomplished without a huge budget.  In fact, a quality space can be had for as little as ten bucks per square foot as an owner builder.  Let's take a look at some pro builder ideas for creating an affordable basement finish.
Plumbing
Whether it be a full bathroom or just a bar sink, strategic placement of new plumbing can save big bucks.  When planning the new layout of the space, be sure to place sinks and toilets near existing plumbing drains.  The closer the existing tie-in for the drains are, the less concrete that will need to be pulled up and replaced after running the new under-slab plumbing.  Of course the concrete tear out won't be an issue if the affordable basement finish is being built along with a new home.  However, money can still be saved in both labor and material by reducing the pipe runs on a new home build.
Flooring
Depending on the type of flooring chosen, it can be one of the biggest expenses in the affordable basement finish.  One way to achieve a high-end look without the huge cost is to stain the concrete floor.  A stained concrete floor can be extremely affordable and durable.  In fact, stained concrete is probably the most durable floor you can put into the new space since it's moisture proof and extremely difficult to wear out.  For a space that's below grade and susceptible to moisture, the stained concrete floor can be a great choice for creating an affordable basement finish.
Doors
Interior doors provide privacy and help to delineate spaces in our homes.  But if your affordable basement finish primarily contains a recreation room or space for entertaining, doors aren't completely necessary.  Since interior doors can be very expensive, both in material costs and labor, eliminating any redundant units can save help save money.  Remember, each door needs trim, hardware and requires a trim carpenter and painter to install and finish.
Open Ceiling Design
Another option for creating an affordable basement finish lies in the ceiling design.  Instead of drywall or a suspended ceiling with tiles, it's possible to leave your ceiling open and paint it as they do in modern lofts (see photo above).  The biggest benefit of this type of finish is the cost savings.  A suspended ceiling can cost $2000-$3000 depending on the type of material used and the square footage to be covered.  Another huge benefit of the loft ceiling design is the access to mechanical systems for future changes.  A drywall ceiling can make a simple task like adding a cable outlet a challenge.
The other issue with suspended ceilings involves the low mechanical systems.  The main design question with a suspended ceiling becomes, what should be done with the beams and ductwork?  If we lower the tiled ceiling to the lowest point, the head room can diminish to a claustrophobia inducing height.
An affordable basement finish is totally achievable with a few key design choices.  If you are looking for more help to build out your own basement space, check out the Armchair Builder basement finishing resources page or stop by the Armchair Builder Video archive for some detailed basement finishing help. 
No tags