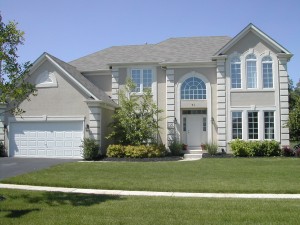 With what appears to be a never ending increase in home prices in many parts of the country, people are looking at all kinds of options for saving money on their dream home.  This doesn't mean folks want to settle for less, but they are in many cases willing to do some extra work to make it happen.  As we've discussed many times here at Armchair Builder, it is possible to general contract your own home with some extra effort.  But the big question is, "Is all this effort really going to be worth it?"
Public Builder Financials
One way to answer this question is to look at current financials of public home building companies.  Today we will take a quick look at Toll Brothers, a national home builder that operates across the country.  Now Toll Brothers is on the high side when it comes to the prices of it's new homes, but but they are still a production home builder which means margins aren't as high as the one off custom homes built by small builders.  So, let's take a look at a couple of Toll's key financials reported just last week.
Net Income was up 58% from the same quarter last year
Average Sales Price was $843k versus $724k for the same quarter last year (referring to homes closed during the quarter)
Adjusted Gross Margin as a percentage of revenue (this excludes interest and write downs) was 25.3%
Toll's net income is rising at a steady pace, which means the lack of housing supply is allowing them to raise their prices much faster than their costs are rising.  This development has helped to steadily increase Toll's gross margin over the past several years.
Owner Builder Savings
Gross margin is a helpful indicator to determine potential owner builder savings.  If the public companies are making over 25 percent gross profit on each house they build by strictly managing the process (remember, Toll employees are managers, not physical workers), why couldn't an owner builder general contract their own home to avoid paying this percentage.  For those people thinking of building a higher end home, the savings could be substantial (25% would be $210k on the $843k Toll "average" home).  And this savings is strictly based on managing the process as the general contractor.  Most owner builders choose to do some of the manual labor which can save them an additional 5-20 percent.
Some of you might be saying, $210k for all that work and risk isn't really all that much.  But there is one more thing to think about…we are talking about after tax dollars here.  Hypothetically lets say I decide to get a second job to make the money to pay the builder.  If I'm in a 25% tax bracket, I would need to make $260k or so before taxes.  These types of savings might turn more people into owner builders.
No tags