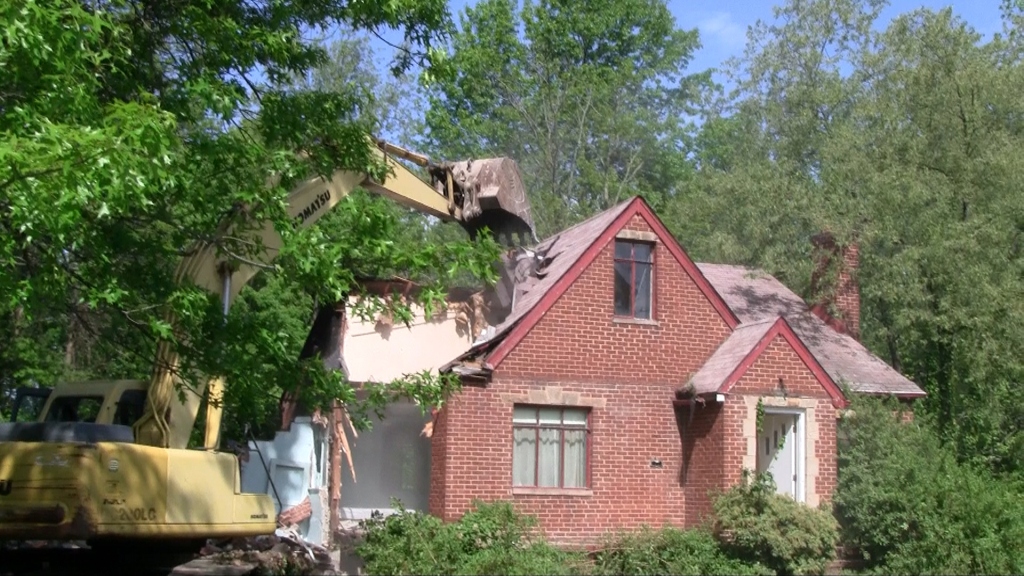 Tear Down the House:  Purchasing an Existing Property to Build Your Dream Home.
One way to get the lot to build your dream home on is to buy an existing property and tear down the house.  A house can be torn down and hauled away in just a day or two.  This can be a great way to get a lot in an established community where no undeveloped lots are left.  But what are the important considerations when looking at properties with existing homes?  Let's take a closer look at some very crucial items to review prior to purchasing a property with intentions to tear down the house and re-build.
Zoning
Check with the local city zoning department to see how the property is currently classified.  Be sure to ask if the existing structure is classified as historical.  If it is, you will not be able to tear down the house.  Historical homes have been identified as important to the history of the local area and are therefore required to be protected.  You might also want to check with the zoning department to review the zoning for the surrounding properties to make sure no undesirable structures will be built in the future (examples include industrial, retail (traffic), schools (noise)…etc.)
Hazardous Materials
Check to make sure the home does not have any hazardous materials.  This would include things like asbestos or lead paint.  If these are found to be present, you will need to go through the additional expense of removal/disposal prior to demolition.  You may also want to investigate as to whether there are any hazardous materials buried on the property.  For example, an underground diesel fuel storage tank can be very expensive to remove if it is leaking.
Engineered Fill
Before you tear down the house, you may want to review your future plans and decide where you will be placing the new structure.  If you plan on installing any part of the new home on the old house footprint, you will need to place engineered fill back into the basement area.  Placing engineered fill basically means you are compacting the hole in the ground so it will properly support a new structure.  If you just dump dirt back into the hole of the old house and then build on top, you will most likely experience uneven settlement and structural problems with the new home in the future.
Recycle
The recycling opportunities are huge when you tear down the house.  From drywall to concrete, much of the material can be recycled instead of sending them to the landfill.  Other possibilities include steel beams, wood framing materials, siding, and fixtures (lighting, door hardware,…etc.).  You may be able to recoup some of your demolition costs by recycling.  However, don't expect much as the cost to remove and transport can be high.
Cost to Tear Down the House
So what does it cost to tear down the house and haul the debris away?  In my experience, a typical home without any hazardous materials will cost between $15,000 and $20,000  to demolish and remove, depending on it's location and size.  Keep in mind, the local municipal requirements can greatly affect this price.  Disposal fees can be big in some parts of the country and if there are no landfills close by, hauling costs will increase the overall cost.
Permit
Before you tear down the house, be sure to get a permit.  Most municipalities require you to pull a demolition permit prior to beginning.  You will want to investigate the cost of this permit along with any other municipal requirements before you purchase a property and tear down the house.
Utilities
The utilities will need to be properly disconnected prior to demolition.  Therefore, the local utility companies will need to be contacted to disconnect back to the source.  Be sure to check for gas, electric, cable, and phone before you begin.  If a utility line is torn out that is still connected, it can cause extensive damage to existing facilities (i.e. transformers, cable boxes, and main utility lines).  You will most likely be held responsible for these if you or your contractor damage them.  As always, you will want to call for an underground utility locate prior to starting any digging.
Reasons to Tear Down the House
Some of you reading this may be saying, "Why would you tear down a perfectly good home?"  There are a couple of very popular reasons.  First, the home may have fallen into disrepair from neglect.  If a home is not properly maintained, you may experience water, frost, or termite damage.  If left untouched for too long, this damage can eventually make a home too costly to fix.  And sometimes, it's just less expensive to tear down the home and re-build from scratch rather than re-work an existing structure.
Move The House Instead
I had a friend move a small existing home from one part of his property to the other.  He then renovated the old house and used it for guests.  If you don't have some deep pockets (i.e. extra cash) I wouldn't recommend this.  Moving a house can cost as much as building a new one.  However, you might try to give the house to someone else with the stipulation that they pay for it to be moved off the property in a specified period of time.  This is the best form of recycling.  Be sure to get your attorney involved if you want to try this route.
Check With Your Local Fire Department
Your local fire department may be interested in using the home for training before you tear down the house.  Basically, the fire department sets a fire in the home and has one of the teams practice putting it out.  Because some small municipalities go years without a fire, this can be a great way to get real life experience to be ready for the real thing.
There are several other very important items to review prior to purchasing a lot to build on.  One item that can affect your budget in a big way is subsurface rock.  Check out our previous article, Buying Land to Build on:  Check for Rock.  You may also want to check an article we recently wrote called Buying the Land for Your Future Dream Home, for some great tips to save money and headaches.  If you're interested in seeing a home demolished recently, check out our video below.
No tags