Do you need to Restore a Deck?
Does your wood deck look like the photo above?  Exterior wood takes a beating from the sun and weather so it takes proper maintenance to keep it looking good.  Here we will share with you how to restore a deck from the ugly, weathered look above to the new refreshed look below with a few simple steps.
Remove old stain/sealer:
The first step to restore a deck properly is the removal of old stain/sealer.  There are two common methods for removing the old product and prepping the wood for the new stain.  First, you can strip the old stain by sanding the surface.  We have used a hardwood floor finish sander (orbital) for this in the past with great results.  Just make sure you don't allow the sander to stay in one place too long as this will damage the surface.  You may also want to test a few fine to medium grit sand papers to find one that leaves the finish to your liking.  If you plan on using a transparent sealer on top of a colored stain, the orbital sander is the best way to get all of the old stain off.  This will give you the cleanest look after you restore a deck.
For our project to restore a deck, we used the same stain as previously used so we didn't need to strip down to bare wood.  This allowed us to go the easier route in which a product is applied to the old stain to prep for the new application.  There are quite a few products on the market for this…we used a product called Deckscapes Stain and Sealer Remover from Sherwin Williams.  We applied the product with a brush to a small area, let stand for ten minutes and then hit it with a stiff bristled brush to help remove any loose stain.  Next, we hosed off the residue with a garden hose.  The boards with the red coloring below have been hit with the stain and sealer remover and washed to help us restore a deck to new condition.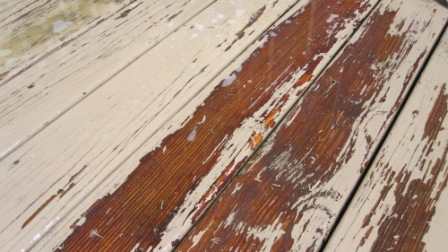 Below are a couple tips to follow when applying a product to remove old stain and sealer before you restore a deck.
Tip 1:  Be sure to work in a small area at a time (we did about 10 square feet with each application).
Tip 2:  Try not to work in the hot sun as the product dries too quickly and loses its effectiveness.
Tip 3:  Cover all of your plants next to the deck to prevent harm from the stain/sealer remover.  Once you have finished with a given area, remove the tarp (or other protective covering) and hose the plants off with clean water.  Be very careful to avoid getting the stain and sealer remover on other finished surfaces (i.e. siding, house trim…etc.)
Tip 4:  You may need to apply a brightener to your deck after the stain and sealer remover is washed off.  For our particular case, we used a colored stain so it wasn't necessary.  If you are using a clear sealer or transparent stain to restore a deck you may want the brightener to lighten up your wood.   Check with your supplier to see what they recommend for your particular circumstance.
Clean Deck Surface to Restore a Deck:
After applying the stain and sealer remover, it's a good idea to power/pressure wash prior to applying the new stain to restore a deck.  We used the strongest setting possible on our pressure washer to help remove any loose stain that remained.  Be careful not to damage the wood (or adjacent siding) with the concentrated spray and be sure to wash the entire deck to help get any remaining product, dirt, and fungus off the deck boards.  You want to make sure there is a clean surface for the stain/sealer to adhere to in order to restore a deck properly.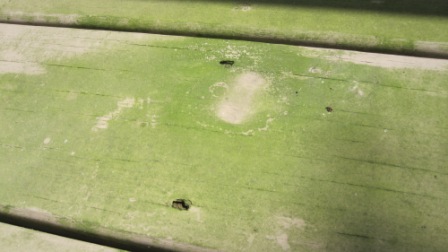 Apply Stain/Sealer
Once the deck has dried, you are ready to apply the new stain.  Be sure to read the manufacturer's directions on the stain or sealer you choose as it may allow/require you to apply to damp wood.  You will want to schedule your project to restore a deck when the forecast calls for three dry days with 50-90 degree temperatures.
The best method is to apply the stain between the deck boards with a brush and then come along with a roller to blend in the rest of the surface.  We tried it both ways and the most uniform appearance was achieved by brushing the edges first.  Some stains allow the use of a sprayer…but we don't recommend it as you will use more material and it's difficult to control the spray.
We also found the best results were achieved by applying our stain in cloudy conditions.  Applying stain in the hot sun will dry it too quickly leaving stroke marks in the surface.  For our project, it was a warm, sunny, spring day so we applied the stain in the late afternoon when the deck surface was cooling down.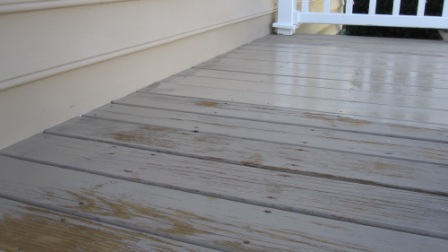 We chose to apply two coats of stain to achieve a more uniform appearance.  Check the product labeling for details on re-coating…we were able to apply the second coat after two hours.  When you restore a deck be sure to let it dry for a minimum of 24 hours (or per manufacturer instructions) prior to using.  If you're thinking of starting over and building a new deck, check out our recent article, 
Building Decks? Don't Do This!
, for some common mistakes people make.
We were able to refinish a total of 200 square feet of decking as described here for just $80 in material and about eight labor hours.  Follow these tips and the manufacturer directions and you can easily restore a deck to new condition that will last for years.
No tags