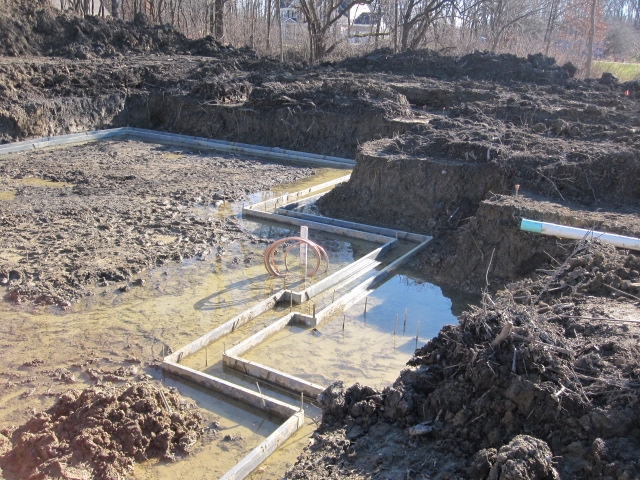 It's a great time of year to install your new house foundation.  Starting construction in the spring allows you to maximize the building season for your schedule and budget.  It can however create problems with high water tables.  Here we will discuss a few builder tips for dealing with water in your new home excavation.
Why Do I Have a High Water Table?
The water table typically rises in the spring in many parts of the U.S. due to higher amounts of precipitation and runoff from melting snow.  Just as the level in the rivers, ponds and lakes rise, the ground water table rises.  As more and more water filters down into the ground, the level of the ground water table rises.
A House Foundation Excavation and Water…Not the best combination.
High water tables aren't a big issue until you dig a hole for a foundation or a trench for utilities.  When you dig down near the level of the table, water will fill the bottom of your new excavation.  This creates two big problems relating to safety and quality.
First, when water enters an excavation it has a tendency to destabilize the sides of the hole and cause cave-ins.   Not only does this create more work for the company digging the hole, but it also creates a dangerous condition for any workers down inside.    There are typically no workers in the house foundation excavation while digging, but they will eventually arrive to install footing and foundation forms.
Cave-ins can also cause damage to occur to form work and drainage systems.  If the hole caves in while the foundation is in process, the dirt can crush forms, tools, pipe…etc.  And as mentioned above, each time a cave-in occurs, the dirt will need to be removed to resume work.  This can get costly when a backhoe and operator can cost $100+ per hour!
The other problem with water entering your new house foundation excavation relates to quality.  If you are forming up the footings, you want the area to be as dry as possible.  Most inspectors in the midwestern states will fail your footing inspection if there is a significant amount of water between the forms.  Why?  It's not that water is bad for curing concrete…quite the contrary (water actually helps strengthen the concrete after it sets up).
The issue with water under the  footing forms for your house foundation involves the possible contamination of the concrete mixture.  Water and dirt create mud.  If the mud gets mixed in with the concrete as it is placed, it can lead to the weakening of the footings.  And since your entire house rests on the footings, we don't want to take the risk.
The other problem with water under the footing forms involves the possibility of settlement after the hole dries out.  Some soil types expand when mixed with water.  If your footings are poured on top of the expanded wet material, your footings may settle when the water goes away.  This can lead to future foundation problems.
Builder Trick to Remove Water from House Foundation Excavation
One way to solve the high water table issue is to over-excavate a small hole next to your house foundation excavation.  You will dig this adjacent hole 1.5 to 2 feet deeper than the main excavation (and approximately 3 feet in diameter).  You will then place a water pump down into the small hole.  As long as your pump can keep up with the water entering the house foundation excavation, it will stay dry.  It's best to get the biggest pump you can handle that will fit into the hole.  Most rental companies supply what they call trash pumps…let them know what you are using it for and they can help you.
Have you ever thought about building your own home?  Be sure to stop by the Armchair Builder How to Build Your Own Home resource page.
Safety with Excavations
Your house foundation excavation, as well as utility trench excavations, require special treatment to remain safe.  For the house foundation, sloping or benching the excavation is necessary to help prevent cave-ins.  For more information on how to slope or bench an excavation and for other useful safety tips, check out OSHA's (Occupational Safety and Health Administration) guide to safety with excavations.
Here are some additional resources you might find helpful to you when planning a new foundation project.
Drain Tile and Your Basement  This video talks about the role drain tile plays in a properly built basement foundation.  We cover the basics and offer up builder tips for proper installation.
Your Home Foundation:  Frost Protection  This article talks about the importance of protecting your foundation from frost when installing in cold weather.  It can be tricky to pour of foundation in below freezing temperatures…so we give you some tips to get a quality job
Structural Problems:  What are Your Chances?  In this article we discuss the percentages of structural problems in homes.  We also talk about how foundations are the big ticket for prevention.  With proper building methods, you can avoid these major issues with your new home.
Preventing Home Foundation Problems   We offer up typical foundation installation quality problems and talk about how you can avoid them in your new home or addition.
No tags

4 Comments for House Foundation Excavation: High Water Table Issues