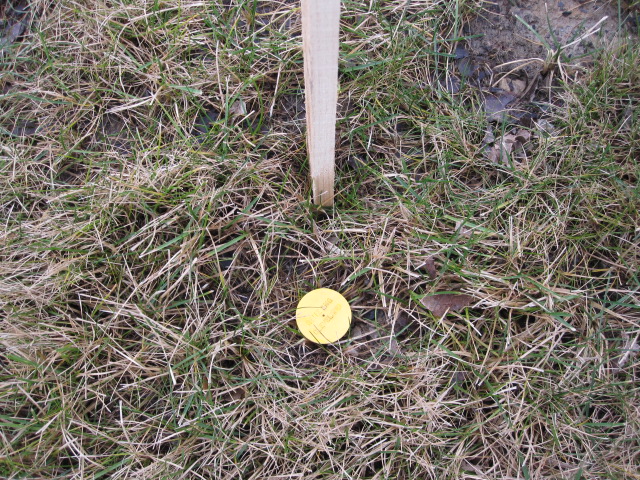 Knowing how to find property lines are can be extremely useful for your building projects.  Whether you are building a new home or simply installing a new landscape bed, knowing the exact location of your property corners is a must to prevent issues with neighbors.  So, how can you find them without going to the expense and hassle of calling a surveyor or engineer?
Marking Property Corners
Want to know how to find property lines?  Find your property corners.  Most land developers and home builders mark property corners at some point during the development of a piece of land.  Many municipalities require builders to relocate the property corners at the time of final inspection.  Typically, the corners are marked with a 2-3 foot long piece of steel rebar (rebar comes in different diameters and lengths and is used to reinforce concrete).  The builder's surveyor drives the rebar into the ground at the exact property corner and a cap is placed on top (as shown in the picture above).  Why is this done?  These steel property corners (or property pins as they are sometimes called) are installed so they can be found in the future with a metal detector after final grading and landscaping covers them up.
How to Find Property Lines & Corners
So we've determined that you can use a metal detector to find the pins that mark the corners connecting your property lines.  Rather than wander around your property with a metal detector finding loose change and nails from construction, you can save some time by getting a copy of your plot plan first.  Sometimes called an engineered plot plan (or engineers survey), this piece of paper shows how your home sits on your lot and provides the locations of the property corners (a.k.a. pins).  This plot plan should get you within a foot or two of the corner…and then your metal detector will find the steel pin.  If you don't have a plot plan check with your local building department…many times building departments will keep these on file.
When you find the steel pin connecting the property lines, and it appears to have been moved or is damaged, call a surveyor to verify the exact location.  This will prevent you from dealing with major hassles down the road with a fence that was built over top of property lines.  But why would the pin be damaged or moved?  Here are some possible scenarios…
hit by a bull dozer or delivery truck during construction
settlement of the soil – if the area was filled during development without proper compaction, it can settle out, causing the pin to move
maliciously moved by a kid or a crazy neighbor (I have seen this before  believe it or not)
Additional Builder Tip
You can use this steel rebar method in all kinds of ways to help you locate buried items for your future construction projects.  Let's say you decide to put PVC conduit under your driveway for a future irrigation line.  By taping a piece of steel to the PVC just below the ground surface, you can bury the PVC so it's not an eyesore.  Then, when you decide to run the electric line in a year or two, you can easily find it with a metal detector.  One more tip…you can rent metal detectors at most rental centers by the hour if your retired friend is using his.
Hopefully we've cleared up any confusion on how to find property lines without having to pay the cost of a surveyor.  For more information about engineered plot plans and what they can do for you check out this video titled, Build Your Own House:  The Civil Engineer.  And if you have a more complicated building project coming up, be sure to stop by our ESTORE for some one-of-a-kind resources to help you save money and build a quality project.
No tags

1 Comment for How to Find Property Lines