It's never a good idea to install hardwood in damp locations.  This would include bathroom floors.  But what if there was a flooring product that looked like hardwood but wasn't susceptible to moisture?  Now there is a porcelain tile that looks like hardwood that you can install indoors or out and in wet or dry areas.
Durability and Traction
When looking for a flooring material for potentially wet areas it's important to make sure it will stay together when moisture strikes.  It's equally important that the flooring provides enough friction at your feet to prevent falls.  Flooring manufacturers call this coefficient of friction.  The embossing on the face of the tiles we used here provide enough friction or grip to be used safely in wet locations.  They also have a frost resistance that allows them to be installed on floors outdoors in cold climates.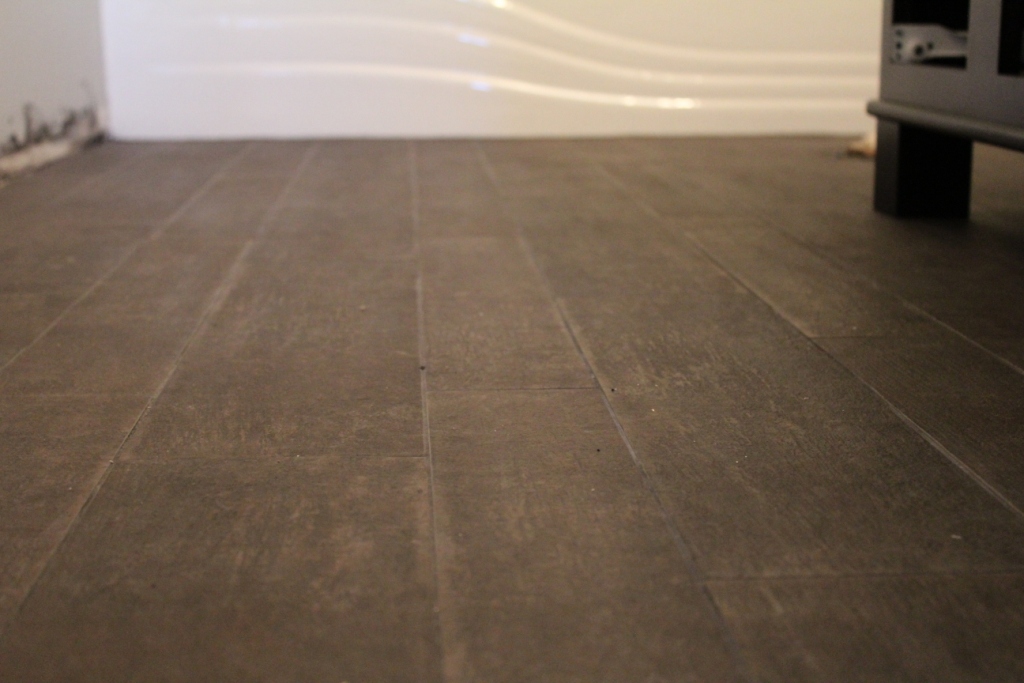 Installation
The particular tile we used comes in three different widths to accommodate several different looks.  Because our space is small, we decided to go with the two smaller widths and install them lengthwise.  By installing on a lengthwise pattern, we give the allusion that our bath is bigger than it actually is.  It also creates a more dramatic feel as you can better see the hardwood details and widths as you come into the bath from the door at the end.  We staggered the end joints on the tiles as you do when installing hardwood planks.  A 1/16 inch spacer was used between the tiles…again, to mimic the look of hardwood.  If the grout joints are too large, they will take away the hardwood look as hardwood gaps are typically 1/8 to 1/16 inches in width.  If you have a need to create a different look…you can also install this tile on the wall indoors.
To make sure we had a water-tight seal at the tub, we used a black caulk between the tub face and the tile floor.  When getting in and out of the shower, there are typically drips.  This caulk line provides additional protection in to prevent water from getting down through to the wood subfloor.
Grout
The spaces between hardwood planks typically have a dark look to them.  After all, they are basically shadows created between planks.  In order to make our grout joints look similar to spaces between hardwood planks, we used a black grout.  Not only does this help create the hardwood look but it also helps keep the grout looking clean.  After installing this floor, we hope the design community decides to go dark for all grout as it really helps prevent staining.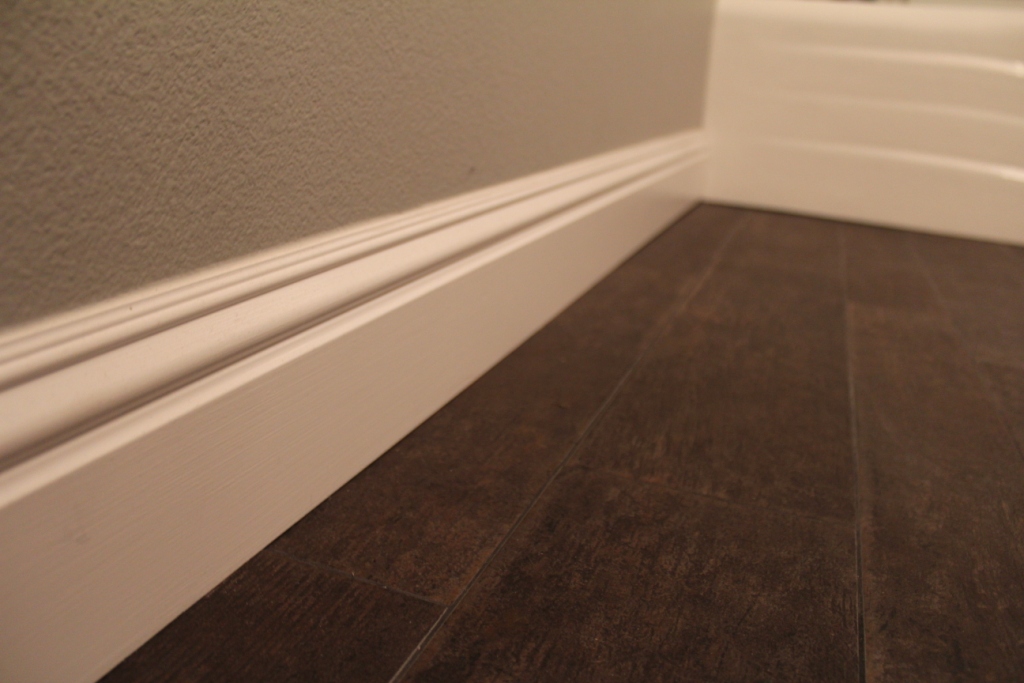 Product Details
Tile Manufacturer:  Marazzi, Model:  Riflessi di Legno, Color:  Ebony, Retail Price: $4.89 per square foot (material only), grout color = black
Video: Tile That Looks Like Hardwood
We just published a video showing how we installed this porcelain tile in a new bath remodel.  Check it out if you get a chance…Installing Tile That Looks Like Hardwood.
Have you ever thought about building your own home?  Be sure to stop by the Armchair Builder How to Build Your Own Home resource page.
No tags

2 Comments for Tile That Looks Like Hardwood