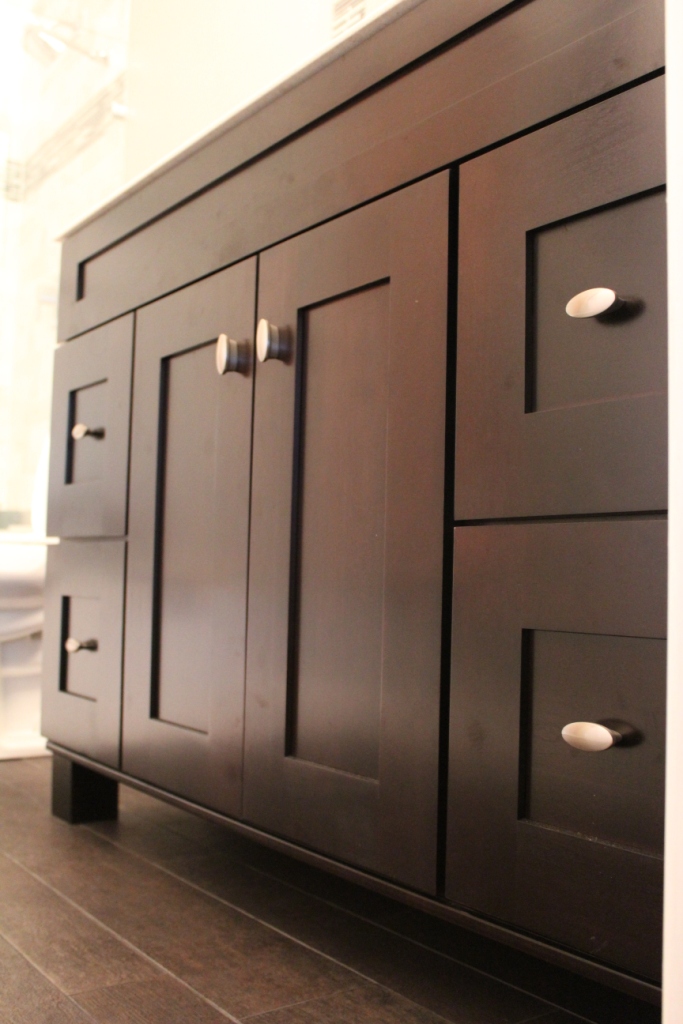 A great looking vanity can do wonders for a boring bathroom.  There are some really nice designer stock vanities out there that provide a custom look at a budget friendly price.  Let's take a look at some quality considerations you will want to keep in mind when looking at new bath vanities for your building projects.
Designer Stock Vanities
What exactly is a designer stock vanity?  Instead of you coming up with a grouping of cabinet parts to build your bath cabinets, manufacturers create a unique design with custom features incorporated into one complete, assembled cabinet.  Have you ever sat down with a designer for kitchen cabinets?  There are many, many different parts that go into the design from hardware, crown, light rails, fillers, roll-out trays…just to name a few.  With designer stock vanities, all of these pieces are put together for you in a complete package.  The designs are then mass produced to lower costs.  It's a great way to get a custom, designer look on a budget.  So what are some quality considerations to keep in mind when looking at bath vanities?
Full Overlay
Full overlay cabinets provide a clean, custom look as the doors and drawer fronts cover the cabinet face frames entirely.  Higher-end cabinets almost always have full overlays.  The big thing to keep in mind when installing is to leave enough space at the side wall so the drawers and doors open properly.  You don't want them to rub the wall or hit the casing when opened.
Full Extension Drawers
Drawers that open all the way allow you to easily get to items in the back.  These drawers are referred to by manufactures as full extension drawers.
Dovetail Drawers
Instead of using just glue and pin nails to hold the drawer boxes together, dovetails are woven together with "fingerlike" joints.  This makes the drawer much stronger and will hold up better over time.
Plywood Construction
Because bathrooms have high humidity levels from frequent shower and tub use, plywood is the preferred material for bath vanities.  Cabinet boxes and drawers that are made out of plywood will hold up to the moisture better than particle board.
Solid Wood Doors
Some vanities have doors that come with plastic inserts for the main middle section.  A better option for your are the doors with all wood construction.  They provide a quality feel that will stand up to heavy use.
Storage Solutions
It's always great to have additional storage options to help you stay organized in your bathroom.  There are all kinds of options out there for bath vanities including…
rollout trays
shelves
sponge containers
storage racks
Height
Back in the old days, 30 inch tall vanities were common.  Now, you can find most bath vanities in taller heights ranging from 34.5 inches up to 36 inches.  This gets you closer to the standard kitchen counter top height of 36 inches and makes washing out your toothpaste much easier.  If you are planning a bath remodel, be sure to consider all of the ramifications associated with raising your existing vanity.  A raised vanity can require changes to plumbing, electrical, mirrors, and lighting.
You should definitely check out some of the designer stock vanities for your next building project.  They offer some great custom features at a budget friendly price.  Watch our latest video below for more tips and items to consider when purchasing your bath vanities.  And for more great videos on bath remodeling, check out our main video section under Low Cost Bath Remodel.


No tags

4 Comments for Bath Vanities: Quality Considerations