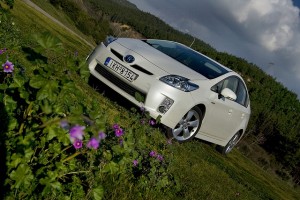 Photo by Giannis StefouHow great would it be if you could drive your car as much as you wanted to without having to pay a dime for gas? Or electric?  Or any other fuel source for that matter.  The technology is currently available to make this happen.  Here is a checklist of items that would help make the zero energy vehicle work for you…– Electric Vehicle:  There are several good quality electric vehicles that can be recharged on the market and in the pipeline.  Choose the one that best matches your tastes and budget.
– Home Charging Station: The company that has been bringing us electrical wiring devices for years now offers several options for charging your vehicle at home.  My favorite is the Leviton Evr-Green portable charger, EVC11-300.  Priced at just under $1000, this unit is not necessarily cheap, but it saves you money on installation.  It is easy to install…just plug it into an existing 15 amp outlet.  And because the product is portable, you can take it with you when you move.
– Home Solar Power System:  These are getting more efficient by the day and although they aren't cheap, the tax credits available can make them more affordable. Ideally, your solar panels would charge the car directly…which means your car will need to be home during the day to charge.  This will work fine for those who have a flexible work schedule or for those who work the night shift.  For the people who work during the day, net metering should make up some…if not all of the difference.  In case you're new to the term, net metering is used to describe the process where your home solar power system is tied to the grid and makes your electric meter effectively run backwards when your home produces more energy than you are using.
No tags

1 Comment for Never Pay To Fuel Your Vehicle Again