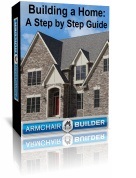 We are proud to announce that we've just published a new e-book, Building a Home:  A Step by Step Guide.  This resource combines all of the articles from our blog series, How to Build a Home, into one neat package. From choosing a lot and obtaining a construction loan through all of the phases of construction, this guide gives the blue print that pros use to get the job done right.  Throughout this e-book, we share builder secrets and tips for saving money and time on your new home.  We also discuss the different methods to go about building your home so you can decide which is best for you.
So, what's the best way to determine what comes next in the new home building process?  There's an app …check that, an e-book for that.  It's called Building a Home:  A Step by Step Guide.
Specifications
If you've spent any time here at ArmchairBuilder.com you know we are all about specifications.  So what are the specs on this new e-book about building a home?
175 Pages
53 Detailed Steps
105 Photos and Illustrations
50,000+ Words
PDF – Available for immediate download
Who will get the most out of this new E-Book?
Owner Builders – Anyone thinking of building their own home will get a tremendous amount of value from this e-book.  The experience from building hundreds of homes went into this resource.  Learning how to do things the right way can save you major time and money on your dream.
People Who Choose To Go with a Full Service Home Builder – Not everyone has the time or the desire to take on the general contractor role for their new home.  But remember, going with a full service builder isn't a magic bullet for success.  Things can, and most likely will, go wrong.  You will want to know enough about the process to protect your own interests.  A new home is probably the single biggest investment you will ever make.  Building a Home:  A Step by Step Guide will help you to understand the process and hold your builder of choice accountable.
Realtors – There's nothing worse than a real estate professional that doesn't understand the process to build a new home.  It's important to know what should happen and when so you can lead your client through the process.  Realtors that understand the process are a great source of information, but can also be an asset to their clients if something goes wrong.  Don't leave your home buyer all alone to deal with the builder.
Videos and Articles Relevant to Building a Home
Throughout this e-book, we provide links to all relevant Armchair Builder videos, articles and downloadable resources.  This will help you to understand how the complete package comes together.  It's a story of how to go from a simple idea, to your lifelong dream home.
To learn more about our new e-book, Building a Home:  A Step by Step Guide, and get your copy today, stop by the ArmchairBuilder.com ESTORE.
No tags