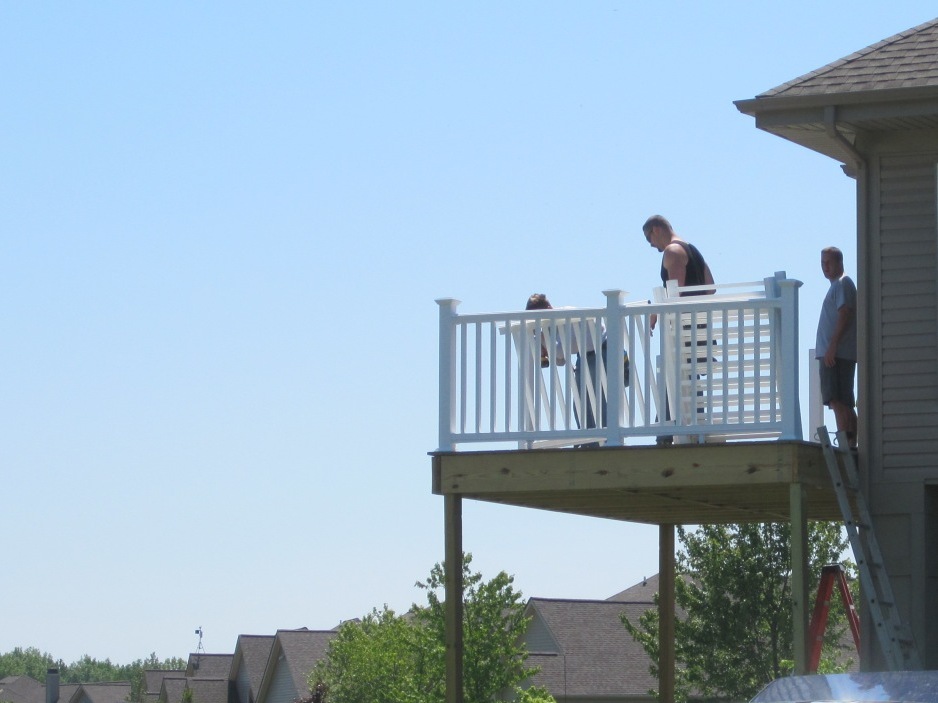 Hiring deck builders for your project can be complicated if you don't have the right tools.  Many of the companies out there will give you a single dollar amount in their bid that includes everything.  The problem with this all inclusive price is that it doesn't allow you to review and compare bids between contractors.  How do you know everything is included?  Here's some guidance to help you hire a good company at the best price.
Bids from Deck Builders…The more the merrier.
Deck builders might give me a hard time with this one.  After all, putting together a bid for a potential customer takes time.  But come on guys…it's part of doing business!  As a homeowner looking to get the best price possible for your deck, getting multiple bids is a must.  As a builder constructing hundreds of homes a year (back when things were good), I was constantly bidding out work.  From this experience I can tell you one thing for sure…prices from subcontractors for the exact same work can be very different.
I have seen bids for building activities come back with a difference as much as a 50% between them!  So, be sure to get as many bids as you feel like you have the time to review.  Why would bids be so different for the same work?  Just a few reasons…overhead structures (the guy with the expensive office and advertising might cost more than the guy that works out of his truck and advertises by word of mouth), scheduling (the company that has employees and no work for next week might give you a special deal to keep busy), purchasing (the guy that buys a lot of material might pass his volume discount on to you)…etc.
Price isn't everything.
These words are very difficult for me to say so here goes, "price isn't everything".  There I said it.  As much as we all want the lowest price on whatever we are buying, we've learned that sometimes we get what we pay for.  This is also true when hiring deck builders.  Make sure you ask any company you are thinking about hiring for their last three customer's names and phone numbers.  Why the last three?  Because if you ask for three references, you will only get the happiest three customers .  I prefer to see the last three projects and get testimonials from them.  This will give you a more realistic representation of their quality.
Tell Them Exactly What you Want.
I know this sounds obvious but you would be surprised at how little information people get or give when hiring work to be done.  If they are looking to get a new roof, they choose the color and type and the details end there.  But what about the underlayment that keeps the water out?  Will there be rubber underlayment at the eaves to prevent ice damming?  Will the drip edge be replaced?  What happens if roof plywood needs to be replaced…what will it cost?  These are just a few of the details they should cover when hiring a company to replace a roof.
For a deck, there are all kinds of things to cover in addition to the typical deck board style and rail type.  Will the deck have a skirt covering up the bottom or will the deck builders be putting down plastic and landscape stone?  Will the deck attach to the house and if so, what kind of flashing will be used to prevent rainwater from getting in?  Will the deck posts be set on top of footings above grade?  How deep will the footings be?  These are just a few of the items that should be included in the scopes of work and specifications that you give to your deck builders.
The main objectives of the scopes of work and specifications are to…  1)  define the work so that potential companies can give you an accurate price, 2)  become part of the legal contract to define what is to be done so you have recourse should things go bad, 3)  provide a reference for the deck builders to go back to when building
The Contract…because we are in America.  
It would be nice if you could hire someone to do work for you with a handshake and a smile like in the old days.  Unfortunately, things don't work that way any more.  In order to protect yourself from the few bad companies out there, you need a bulletproof contract that has all the details in it.  We aren't attorneys so we have just given you a few basics below.  You should have an attorney review any contract you decide to use…especially if you use the deck builders company contract as these will typically be slanted in their favor.  As a minimum, the contract should have a…
schedule – to define when the work will start and end (approximately…taking into account weather)
dollar amount – how much you are paying
scopes of work and specifications – defining the quality of the work and materials
warranty – how long is the deck to be covered for material and workmanship?  this should be a minimum of a year
remedy – what happens if either party fails to perform…what recourse do you have
payment schedule – when will payment be made (I don't recommend prepayment of any kind…if they need it for material, purchase them yourself)
design – the contract should reference the plan – to show dimensions, shape, height off ground, footings, framing details…etc.
These are just the basics of a contract to build a deck.  As mentioned before, you should have an attorney friend review your contract to make sure it has everything you need to be properly protected.  As mentioned above, law is not our forte.
Deck Bid Package – the key to a low price
We have just completed a Deck Bid Package that gives you the tools to get the best price when hiring deck builders.  It will allow you to see what each part of the deck costs so you can decide if you want to do some of the work yourself or substitute different materials.  With our deck bid sheet, you will be able to compare apples to apples when reviewing pricing (sorry for the cliche).  And with the Scopes of Work and Specifications in our Deck Bid Package, you can communicate exactly what you want to potential deck builders so they can include everything in their bid.  Take a trip to our ESTORE if you would like to purchase the Deck Bid Package and save money on your new project.
Some other resources you might be interested in when hiring deck builders…
Building Decks?  Don't Do This! – covers common issues with decks…if you know what they are you can work with your deck builders to make sure you don't repeat them
Seven Things to Never Say to Your Subcontractor  – hiring deck builders (or any contractor really) can give you an overwhelming feeling…this article talks about things to avoid when dealing with them
Restore a Deck
  Building a deck is one thing…bringing an old one back to life is another.  This article gives you steps to restore an old deck…maybe this will help you decide whether to use maintenance free decking and rails or not
We hope you find the best deck builders in your local area.  Check out this video if you want some ideas for
finding quality subcontractors
 for your home building projects.
No tags

3 Comments for Deck Builders: Hiring for Your New Project