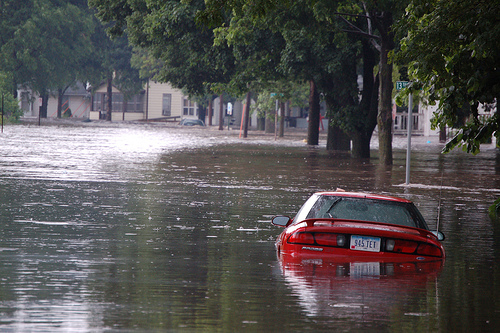 There's a lot of talk lately about hiring contractors to work on your home.  When you're in a pinch, like with the devastation from hurricane Sandy, you might be tempted to hastily hire contractors to get your home back in order.  Be sure to take the time to hire the good guys to prevent problems with poor workmanship, liability exposure, crooks and unfinished work.  Here we dig deeper into the license and how it can help, but it's not the only thing to review when hiring contractors.
The License
A recent story on NBC led you to believe that you will be fine as long as you hire a licensed contractor.  Unfortunately, this is not always the case.  Yes, as a homeowner, you should hire licensed companies to do work for you (when they are required to have a license…see details below).  But just because a company has a license doesn't mean they have your back.  As a builder, I have seen both good and bad licensed contractors.  You know that guy that cut you off on the highway the other day, he has a license to drive.  Or how about the first dentist you went to that couldn't seem to get your fillings right?  This professional was licensed.  The license is a good place to start  but it's no magic bullet.
Is a License Required?
Not all companies that do work on your home need a license.  Skilled trade companies typically need a license…but not always.  Trades like roofing, plumbing, electric, and HVAC contractors typically are licensed.  But does a cleaning company or company that provides general labor need a contractor's license?  If you are hiring a company to remove a downed tree, should you check for a license?  The answer to these questions is maybe and yes.  It really depends on your location as to whether a particular company is required to have a contractor or trade license.  Put a call into your local building department to find out which companies are required to have a license.  Also ask if contractors are required to have a bond or a specified amount of insurance.  If not, you will want to check yourself.
The state of Ohio for example, doesn't license residential contractors or general contractors.  They only require licenses for commercial contractors in the following trades…electrical, plumbing, hydronics, HVAC and refrigeration.  On the other hand, Hawaii requires all general contractors and specialty contractors to be licensed.  There is an exclusion in Hawaii however for handyman work.  If the work doesn't require a permit and the value is less than $1000, no license is required.
Don't confuse a business license or registration with a contractor or specialty trade license.  These are two different things.  The business registration or license is required in all states for any company doing business in the state, while the contractor license attempts to make sure a company is qualified to perform work on your home and seeks to protect consumers.  This typically is accomplished by making a contractor take a test, provide minimum levels of insurance and sometimes have a bond in case the work isn't finished (or finished correctly).
What Else to Review Before Hiring Contractors?
Insurance – be sure the contractor has the appropriate insurance.  Check with your homeowners insurance carrier to see what they recommend for insurance coverage.  Builders typically require subcontractors to have a minimum of $1 million general liability insurance and carry the minimum state requirement for workman's compensation coverage.
How Long in Business?  Did they start the company because of the disaster?  If so, keep looking.
References – get names and phone numbers of the last three customers…not the best three, the last three.  Make the time to call them.
State License Board – check with your state licensing board (if they do require a license) and verify the license is current and there are no complaints with the contractor
BBB – check with the Better Business Bureau – again, not a magic bullet, but it can signal major problems.  Keep in mind, just because the BBB says there are no complaints doesn't guarantee the company is good
Deposits – try to avoid these.  If there is material to purchase, buy it yourself and take delivery at your home.  There are too many homeowners taken this way.  A few unscrupulous companies take your deposit under a fictitious company name and never return.
These are just a few of the things to review before hiring contractors.  None of them alone will protect you…but together, they can be powerful.  We've listed several links to other resources below to help you hire the best contractors for your home. You may be in a hurry to get work completed on your home.  It's totally understandable, especially if you have water damage or no heat.  But be sure to take the time to properly check out companies before you hire them because if you by chance get a bad one, you will only add to your list of items to do.
Michael Luckado has built, remodeled and repaired thousands of homes across the U.S.  He co-founded ArmchairBuilder.com to help you save money and hassles on your building projects.
No tags