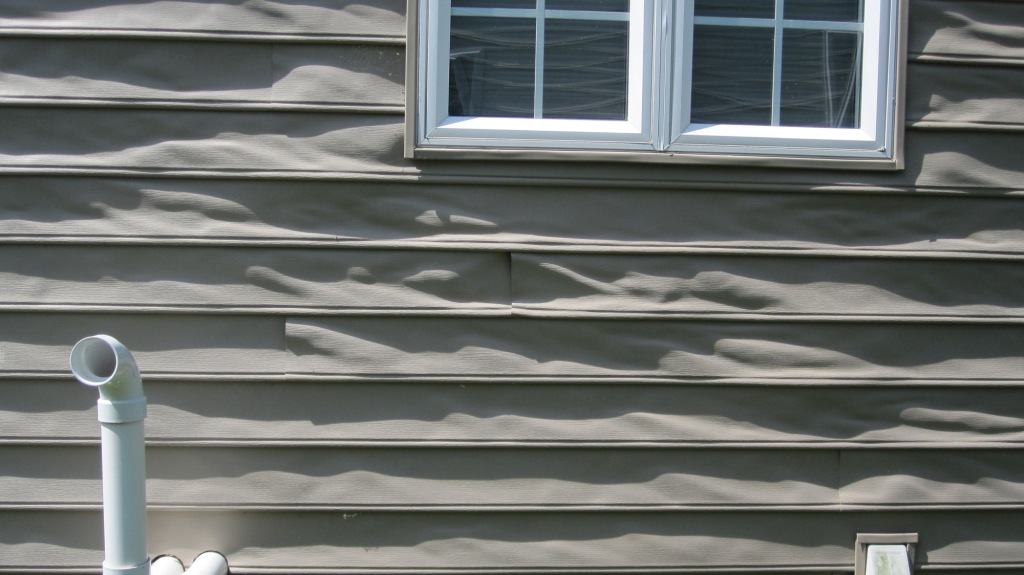 If you had told me five years ago that windows are the cause of melting siding, I would have chuckled.  I've built, remodeled and repaired several thousand homes and I had never heard of melting siding until the last couple years.  But believe it or not, some of the new energy efficient windows are creating this problem.  Let's talk about what causes it, how to prevent the problem, and then discuss solutions if you already have the melting siding.
Low-E Windows Melting Siding
Combine low-E glass facing south or southwest, homes that are close together with vinyl siding, and the sun and you get a recipe for melting siding.  In case you aren't familiar with them, low-E (a.k.a. low-emittance) windows have a coating on them that suppresses radiative heat flow.  In other words, it prevents heat from going where we don't want it to go.   The amount of low-E and it's location on the glass is dependent on the climate the home is in.  These windows are becoming more common as people seek to improve the energy performance of their homes.
Is the Melting Siding a Vinyl Issue?
Vinyl siding starts to distort (or melt) at temperatures around 165-170 degrees fahrenheit.  As far as I know, this has been the case ever since the siding was first developed.  In normal situations, siding would not be subjected to these temperatures.  So in my opinion, as a builder, the answer is no, siding that melts from window reflections are not defective.  The concentrated beam of light from the low-E windows is an external force that is uncommon until recently.
Prevention
Here are some ideas to keep from melting siding  in new and existing homes…
don't install Low-E glass on south or southwest facing walls when a vinyl sided wall is within 20 feet (applies to low-E glass with coating facing exterior)
cover double hung low-E glass with full screens to diffuse sun reflections
use siding that has a surface that can withstand temperatures of 250 degrees fahrenheit before damage occurs
Solution for Existing Homes with Melting Siding
Here are some tips for solutions to your melting siding issues…
cover the low-e windows with awnings to keep the sun off (although, if it's your neighbors home with the low-E…who pays for them and will they like the idea of awnings?)
replace the low-e glass with a different type
cover the exterior of the windows with screens to stop the reflection
plant a landscape buffer between the homes to prevent the reflections from hitting the vinyl siding
install a fence between the homes to prevent the reflections
talk to the window manufacturer…they have been known to take care of this problem in some cases
Check out the video below describing more about the low-E window/melting vinyl siding issue.  Let us know if you have had similar issues with melting siding on your home.
Michael Luckado has  built, remodeled and repaired thousands of homes across the U.S.  He co-founded ArmchairBuilder.com to help you save money and hassles on your building and repair projects.
No tags

2 Comments for Melting Siding from Window Reflections…Fact or Fiction?