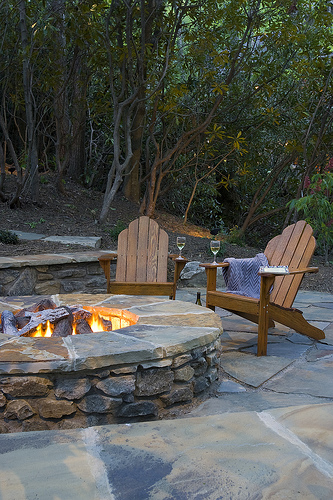 Are you struggling to come up with a good way to design your backyard?   If you were a professional landscape architect, what would you put into your new backyard design?  There are so many options to make your outdoor space a better place for entertaining and relaxing.  From pools to fire pits, the possibilities are endless.  Here we look at what professional architects say are the hottest trends in backyard living today.
Earlier this year, the American Society of Landscape Architects conducted a survey covering outdoor living spaces.  Professional landscape architects across the U.S. were asked to rate the popularity of many of the possible residential outdoor design elements.  Based on their recent experience with customers and their vision for the future, the architects were asked to rank the expected use of the different outdoor design choices.  When you design your backyard, you may want to consider some of these elements.
Design Your Backyard with These Popular Elements
The percentages indicate the landscape architects rated the outdoor element as somewhat or very in demand in 2012.
97.4% – Grills – This seems like a no-brainer.  You'd have to be crazy to design your backyard without a grill.
96.6% – Low Maintenance Landscape – This one makes all the sense in the world.  Who wants to spend their entire weekend working in the yard?  Even if you think the yard work is therapeutic, you don't need a part-time job.  It's better when you make the call of whether to work in the yard or not on any given day.  When you design your backyard with low maintenance plants, your free time is…well, free.
95.8% – Fireplaces/Fire Pits – There's nothing like sitting around a fire, telling stories and roasting marshmallows and dogs with friends.  The best part is, the price of backyard fire pits have plummeted in recent years.  The weekend warrior can install a custom looking fire pit in just a day or two.  Did you see our post this past week on installing a dry-fit, wood burning outdoor fire pit?
95.7% – Dining Areas:  Great…as long as you can keep the mosquitos away
93.1% – Lighting Features – A well thought out, low-voltage lighting plan can really enhance the feel of an outdoor space.  Design your backyard with lighting features to create a mood and improve security.
89.9% – Decorative Water Elements – A water fall can help mask unwanted noises like cars…or the neighbor's dog barking.  Pair the water element with some lighting and you have a nice centerpiece for your outdoor living space.
These are the top design elements for 2012 according to the professional architects surveyed.  And believe it or not, turf lawns were only mentioned by half of the survey takers.  Apparently people are starting to realize that the green lawn is expensive to maintain for both the homeowner and the environment.  However, they are still a great place for the kids to play.  Incorporate a few of the elements described here when you design your backyard and you will extend your living space to the great outdoors.
No tags