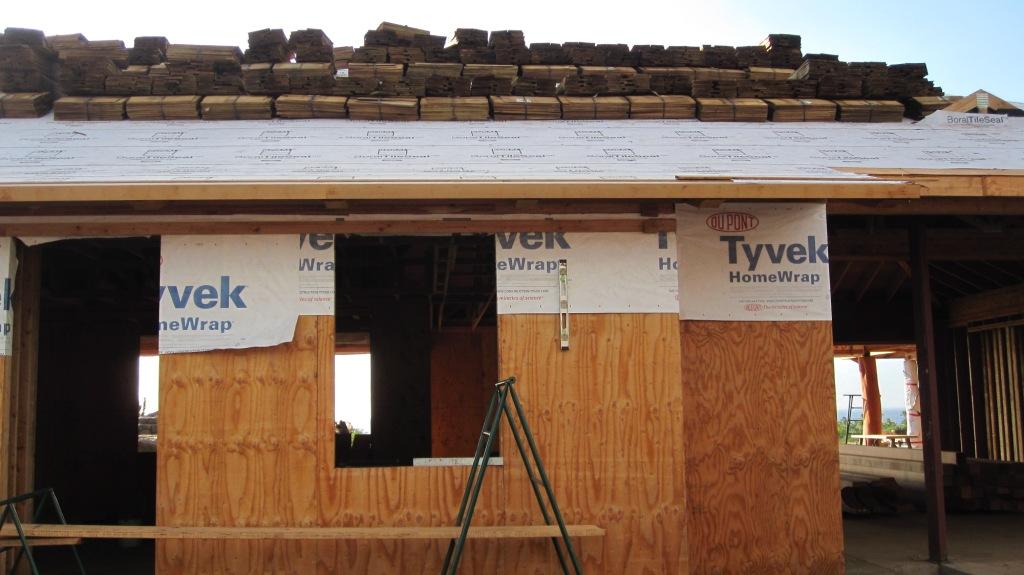 Building safety should be a major concern for owner builders.  On December 15th, 2012, OSHA will be enforcing a new fall protection rule on new home building sites.  The leading cause of death on construction sites in the U.S. each year are from falls.  As an owner builder, you need to make sure you and your subcontractors are protected from these falls.  In this article we talk about the new fall protection rule and share a few builder tips to increase building safety during construction to help protect you from fines and lawsuits on your job site.
Falls Are Costly
With forty workers dying each year from falls on U.S. construction sites, they are the leading cause of death.  According to a survey by OSHA on building safety,  workman's compensation liability for roofers that have experienced a fall on the job exceeds $100k.  Without proper building safety and insurance coverage in place, this type of accident can cause major financial problems for the owner builder.

Typical Fall Protection Methods Prior to Rule Change
For quite some time now the typical fall protection method used by roofers working on a relatively flat pitched roof has been the slide guard.  Basically, a slide guard is a piece of wood that forms a 90 degree angle with the roof plane and is secured to the rafters with a metal bracket (see graphic at above).  These guards are placed every eight feet, starting at the eave and then on up the roof.  Roofers step on these guards for support.  Up until now, slider guards have been the most common building safety method used on low slope roofs.
New Rule for Fall Protection
The new rule requires workers six feet or more above the ground to use acceptable fall arrest systems.  So what exactly do they mean by "acceptable".  According to OSHA, fall protection equipment such as safety nets, guardrails, or personal fall arrest systems should be used.  Having built hundreds of homes over the years, my guess is guardrails and safety nets will not be used in most situations.  There is no good, easy way to install them without getting in the way of other activities.
The best option under the new rule in most cases will be to require workers to wear a full body harness and deceleration device anchored to the roof.  A deceleration device is a high tech bungee cord to slow down the worker in the event of a fall.  You see iron workers wearing these harnesses on big commercial skyscraper construction projects.
The Cost of Non-Compliance
So what happens if you and your workers ignore this new OSHA rule?  In the worst case scenario, someone falls and is badly injured or killed.  Not only will this bring your project to a grinding halt, but it will also open you up to tremendous liability and fines.  According to OSHA, fines for non-compliance will run up to $7k per worker.  And as for lawsuits…they will be through the roof (…sorry, had to use that one).
Building Safety for Owner Builders
There are certain things you can do to help protect yourself from fines and injuries on your new home job site.  Here are a few ideas to consider…
Subcontracts – Have your attorney include language in your subcontracts requiring all workers on your site be trained in all OSHA regulations relevant to their activity.  Also note that each company must supply all required safety equipment to perform the job safely.  The subcontract should also list the subcontractor as responsible for complying with all OSHA regulations.
Workman's Compensation – Require every subcontractor to have at least the minimum workman's compensation insurance required by the state and make them provide proof from their insurance company at contract signing.
General Liability Insurance – Require every subcontractor to have general liability insurance and require them to provide proof at contract signing.  Check with your insurance carrier to find out what the minimums should be.  Most builders require a minimum of $2 million in general liability for roofing and framing companies.  They also have the subcontractor list them as an additional insured on the policy.
Before signing the contract with each subcontractor, ask for a copy of their building safety plan that says how they plan to exceed the OSHA requirements on the job site.
Subcontractors Affected by the New Rule
Roofers
Siding Installers
Plumbers (installing roof vents)
HVAC installers (installing roof vents)
Rough Carpenters
Solar Panel installers
Gutter and Downspout installers
Anyone else who needs to do work at a height over six feet (other possible affected trades…drywall, trim carpentry,…etc.)
Talk with your insurance carrier to find out the types and amounts of insurance coverage you should have to properly protect yourself.  Also keep in mind, if you or your job site supervisor see anything unsafe, be sure to stop work immediately until the hazard is removed.  Building safety should be one of your biggest concerns when building your own home.  For more information about safety and reduction of risk on your new home site, check out the articles below.  And if you are thinking of building your own home, check out some of our great money and time saving resources at our
ESTORE
.
No tags